In Windows 10, the big updates, it is not like an update, it's almost completely a new operating system!
The Windows 10 is in reality not Windows 10 plus SP4, it would have meanwhile Windows 10.4 or even Windows 10.6 the correct name for Windows 10 or in example, Windows 11.1 Developer Preview. 

Because with the first Windows 10, it has hardly anything in common. And the update is not a system update like the SP1 or SP3 did before. 
Currently, the operating system itself, far more than 100th of functions have been deleted, and new ones are added, are affected most of the desktop programs and drivers.
However, the solution is quite simple
, to make after the update programs under Windows 10-16 again functional. Just reinstall all, possibly also with drivers required and that should be done after each major update!
How do I know that a big update was made!
If the
Windows.old
and
Windows10Upgrade
folders are on the C:\ drive, and they are missing
10 to 20 gigabytes
on the hard disk. (
... see Image-1
)
Windows 10.00 1507 Threshold 1 Jul/2015
Windows 10.11 1511 Threshold 2 November/2015
Windows 10.12 1607 Redstone 1 - Anniversary Update (Aug/2016)
Windows 10.13 1703 Redstone 2 - Creators Update (Apr/2017)
Windows 10.14 1709 Redstone 3 - Fall Creators Update (Oct/2017)
Windows 10.15 1803 Redstone 4 - April 2018 Update (Apr/2018)
Windows 10.16 1809 Redstone 5 - September 2018 Update (Sep/2018)
Windows 10.17 1904 Bluestone 6 - April 2019 Update (2019) 
After update Many programs do not work in W10!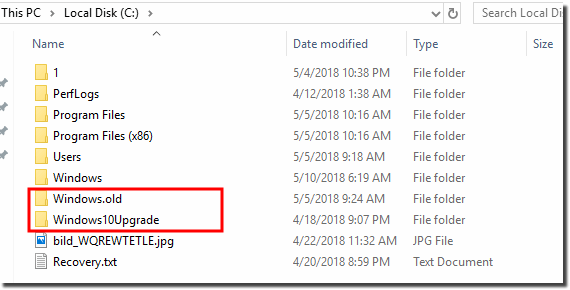 Update and Windows 10
Program start Problems