The solution to via single click to execute or open a file, and you don not want to double-click!
In general, you need to open a file, folder, or app on your Windows 10, 8.1, 7, ... PC by double-clicking with the left mouse button, or by right-clicking and choosing Open from the shortcut menu.
In this Quick-Tip you will learn how to open a folder and files with a single click, or double-click in a  way. 

PS: This Rule is also for the ... Quad-Explorer for Windows!
How to switch between double-click and single-click method!
Start the folder settings to change the mouse behavior!

One very quick fix that you can use is the command:
control /name Microsoft.FolderOptions
(
... see Image-1 Point 1 to 3
)
(Image-1) Single click to execute or open a file versus double click!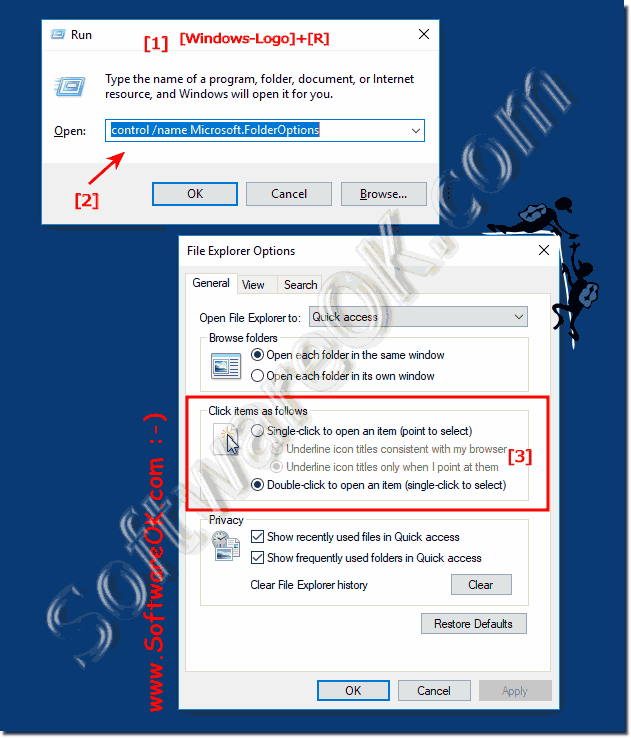 Sometimes users wonder, why they have to click twice, if you can click once after reinstalling Windows, the setting "double-click to open files" is set to "single-click", However, you can use this solution without hesitation for other versions of Microsoft's Windows operating systems whether it's a Windows desktop, tablet, Surface Pro / Go, or even a server operating system. It has been tested on all and successfully
verified
. 
What can I do if I still have problems when "
switch from single click to double click!
" is a frequently asked question Restart the Windows operating system, 
please perform a proper Windows reboot
.