Quite simply you can use the recently opened fonts folder to compare the fonts!
The solution is available in
FontViewOK
version 5.55, usually it is always the same folders that you call to compare fonts or looking for the best font, The last used fonts folders are sorted by the last access and are via the program menu Alt + P and the
shortcut
 "1" to "0" directly callable.
Very handy for those who need to compare daily fonts.


Using the most recently opened fonts folder under Windows 11, 10, 8.1, ...!



1. Start FontViewOK  as usual 

2. Open one of your favorite fonts folder

3. This will automatically be saved to position 1.

4. When you call up the program menu (Alt + P)

5. You can recognize the fonts folder immediately and compare again 



(Image-1) The last 10 open fonts folder, use, compare, on Windows, 10, 8.1!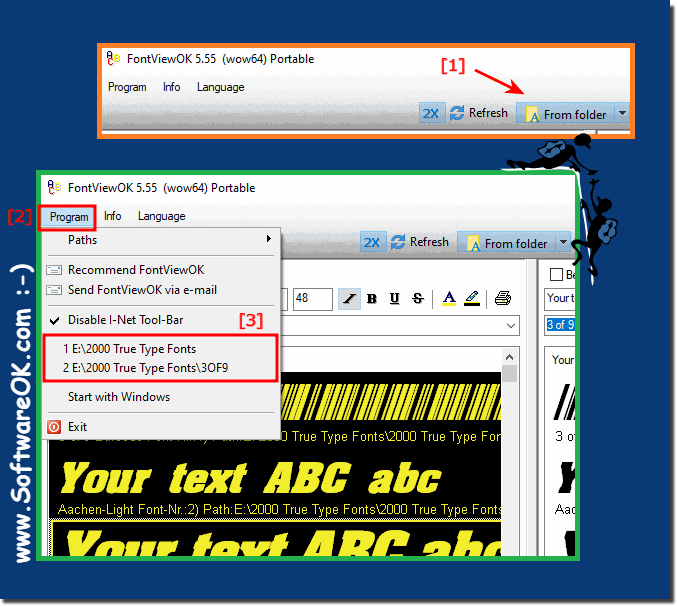 Lookup:
Everyone knows how to
install the fonts
you want
in Windows 10
. Not only does the Windows 10 have several basic and advanced fonts by default. However, you can also install any font you want. Here's how you can use them to install a non-installed Windows font without installing more stylish fonts, as this may not be possible on the system. Luckily, FontViewOK makes it easy to use fonts without installing them.
►►► 
How can I display, use fonts without installing the font file?

FAQ 7: Updated on: 29 August 2023 09:41