To Include or Remove folders from libraies in Windows 7 please start the MS-Explorer with keys [Win-Logo]+[E].

Right-click at the library you want to customize (add or remove folder) and then click "Properties" (Image-1).

Then you can see the "Properties" (Image-2) of the selected library.

Click the button "Include a folder" to add a folder to the selected library.

Pick an existing folder and Click the button "Remove" to remove a folder from library.
(See Image-2)

(Image-2) Windows-7 - Include or Delete folders from libraries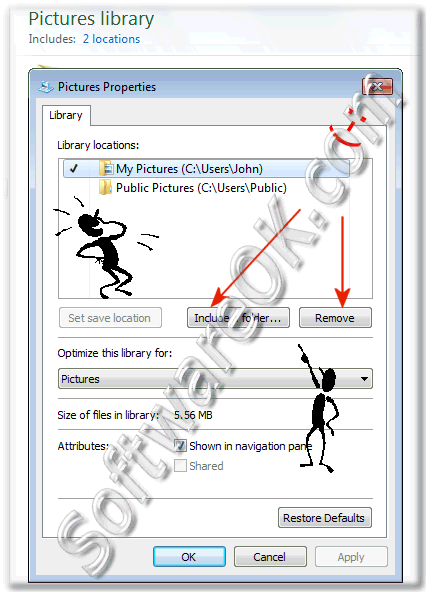 You can include in a library, a folder from an external hard drive, from removable media devices (such as CDs and DVDs) and also from a network folder.

To remove (Info):
When you no longer need to monitor a folder in a library, you can remove it. When you remove a folder from a library, the folder and its contents are not deleted from their original location.



General Information (c) Microsoft:
A library gathers content from various folders. You can include folders from different locations in the same library, and then view and arrange the files in those folders as one collection. For example, if you keep some of your pictures on an external hard drive, you can include a folder from that hard drive in your Pictures library, and then access that folder's files in your Pictures library whenever the hard drive is connected to your computer.