The solution is simple to change the desktop theme eg Windows Design in Windows-10, this solution is also for Windows 8.1 and Windows 7!!


Please open in Windows 10 MS-Explorer Control Panel\All Control Panel Items\Personalization

or run the command: 

control.exe /name Microsoft.Personalization

 from the Windows-10 Run Dialog and change the Windows 10 Theme! (... see Image-1 Arrow 1 to 4).

At this point you can change  the Windows 10 Desktop Background or Windows-10 System Sounds.

Tip: ... Download more Windows-10 Themes 

Info: A theme includes a desktop background, a Windows-10 screen saver, a window border color,

sounds

, and sometimes icons and mouse pointers. Read This: Change the Windows 10 computer sounds, how to |&| Windows 10 Start Sound, Logoff, Logon 

See also: Customize icon spacing on the windows 10 desktop (symbol distances)!



(Image-1) Change the desktop theme and background in Windows-10!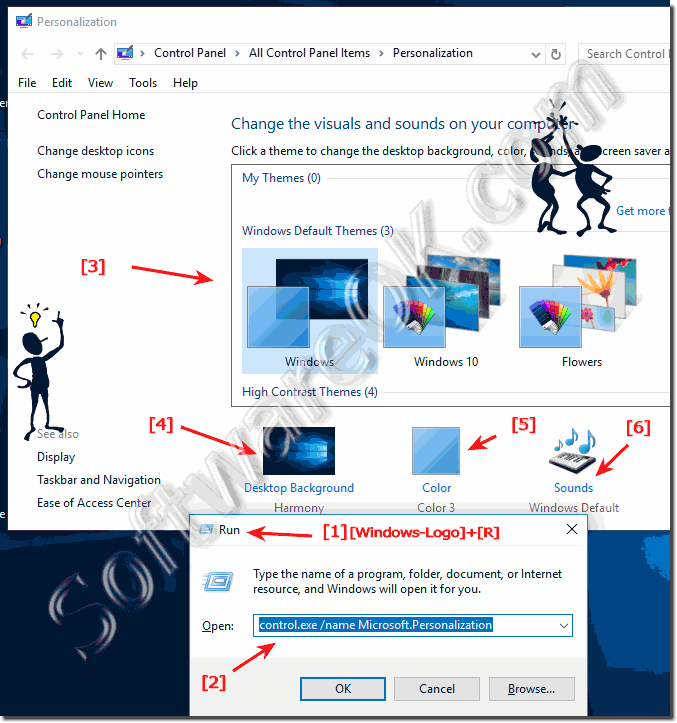 Useful Infos from (c) Microsoft:



If your

Windows-10 computer

is working slowly, you might see a message saying that the theme is using most of its allowed memory. If this happens, you can change to the Windows 10 Basic theme or a high-contrast theme to improve performance.

 

If you change the theme to Windows 10 Basic, you will no longer get the full Aero experience. Aero is the premium visual experience in this version of Windows 10. It features a transparent glass design, window animations, Aero Flip 3D, and live window previews.



FAQ 150: Updated on: 25 September 2018 00:33