If the desktop icons or shortcuts on the desktop are not displayed on Windows 10, please enable the option Show desktop icons!
Sometimes after the big update of Windows 10 for example at
Creators Update
 the desktop icons are gone or in a different position, but that is not a problem, here is a short example as a quick solution!
Show the Desktop icons and shortcuts are not displayed on Windows 10!



If the Windows 10 desktop is not in focus, press the keyboard shortcut Windows logo + D.

By right-clicking on the desktop, open the Desktop context menu and simply select the option:
Show Desktop Icons.

(... see Image-1 Arrow-1)






(Image-1) Windows-10 Show Desktop icons and shortcuts!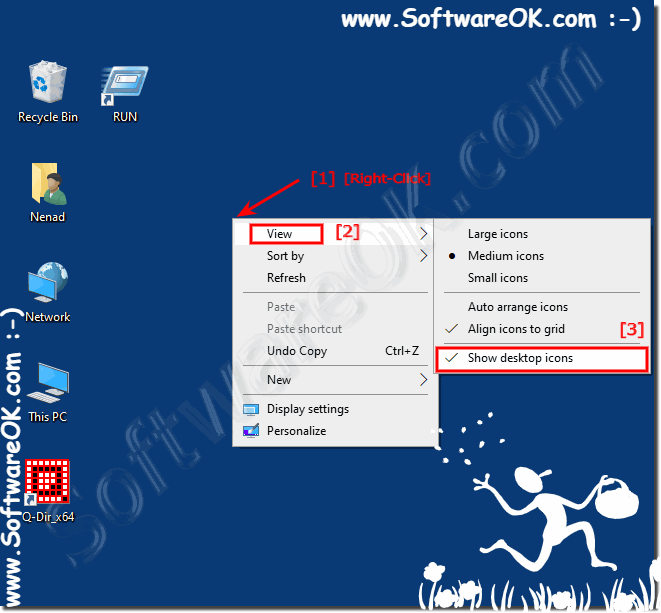 This solution to show desktop icons and shortcuts on Windows Desktop is suitable for: Windows 10 (Redstone 4 & 5) Pro, Enterprise, Home, Windows 8.1, Windows 8, Windows-Server 2016, 2012, 2008, Windows 7 Basic, Professional, Starter, Ultimate


What icons and objects are on the Windows desktop?
Some of the most commonly used icons on the desktop include those for the desktop, recycle bin, your internet browser eg Internet Explorer and My Documents. 
On the Windows desktop, you also have access to the Windows Start menu via the Start button on the taskbar, as well as the 
Windows notification area bar
 . 
If some or all of these 
icons are missing on the desktop
 , you can change which icons are displayed. 
Click on the following link and follow the steps to show or hide these icons.
FAQ 62: Updated on: 18 May 2020 11:07