Thank you for the great program! I have a few suggestions I think would make it even better.
1) Display the free space of the drive when the drive is clicked in the tree view.
2) Configurable buttons to run commands on a selected folder or file(s).
3) Customizable keyboard shortcuts.
ANSWER :
to 1) See screen shot!
to2&3) I think this functions can be added in future ;)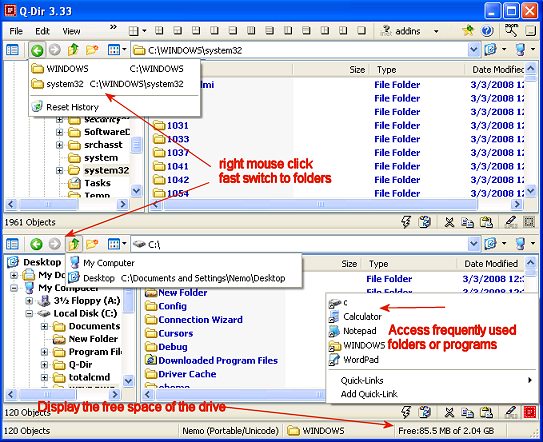 ---
Is there a way to save Filter?
I want to see certain files ALL THE TIME - different filter on different drive. The filter feature in Q-Dir doesn't save. When I close Q-Dir and reopen it, the filter is gone. I have to set filter again.
I doubt others less determined than I am would have bothered.
You need to explain several features. If you would follow up on this and I will write you again telling you which settings most need some explanation.
When i press the button "New folder"
And there are files selected, the selected files remain selected and so, when i give a name to the newly created folder, all the selected files are renamed. it's not a good thing. I think that when i create a new folder, all the selected files must be unselected.
I wish to try more of them.
I am so happy you support English in many of them. I hope you will consider to support more of your excellent programs in English.
Hi. Small suggestion for a great software:
What about being able to access "My Network Places" as a folder as in Windows Explorer? Regards,
I notice that "Invert Selection" is missing from the EDIT menu.
When you have time is it possible to include this item in the MENU, please? Many lazy Americans rely on the mouse(pointer) for most operations. It is inconvenient that "Invert Selection" is missing from the menu (only in keyboard action). We would be so grateful if you would add "Invert Selection" to the menu.
Remember sometimes panel
Q-Dir doesn't remember sometimes panel widths and only one panel is shown maximized.
Vista explorer has been driving me crazy.
Vista explorer has been driving me crazy. Thanks so much for this app. Great job.