Hello,
Thank you for a very good program.
Here are some suggestions for improvement:
1. A hotkey for folder creation - when you press it, a foldere is created in the currently selected pane.Currently you can only do this by right click and select from menu or by click on the button. A hotkey (e.g. F8) linked to that button would be nice.
2. when in multiple mane view with one folder tree pane and multitple file panes(1 for all), it is not very clear which pane is active. My suggestion is to give each pane a title bar showing the current path, which would be coloured when active and greyed out when inactive , like win explorer windows when in foreground and in background, respectively.
Thank you
ANSWER :
TO1>hotkey for folder creation
Is Ctrl+N not god ;(
FAQ: http://www.softwareok.com/?seite=faq-Q-DIR&faq=3

TO2>hotkey for folder creation
OK ! I will add an highlight option for address bar

Tip:
MENU>>EXTRAS>... MORE OPTIONS
can your define #BG for background-color
and #BG-A background-color for active view

Thank you for your prompt answer.
About Ctrl N as shortcut for folder creation, I was not aware of it, I must have been using an older version of the program. I noticed it just after sending the message. However, a single F key would be even better, you can use it with one hand :).
About the titlebar highlight. I am not sure I explained very clearly what I mean. I was thinking maybe we could have a single address bar for all three panes, but each pane should have a title bar, like an independent window, and this title bar was to be highlighted. Something like this happens in xplorer2. In the attached screenshot I have indicated it with a red arrow.
ANSWER :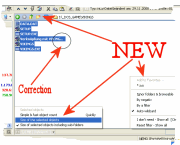 4 highlight in 3.49 see screenshot!

---