Update on: 25 December 2019
Suitable for Microsoft : Windows 10, Windows 8.1, Windows 8, Windows 7, Server 2000-2016, XP, Vista, x64/x32/x86

A small but effective program to quickly check the RAM for errors before the warranty expires!


Today you buy PCs with 16, 32, 64, 128, ... Giga-Bit RAM, but these are usually never used or addressed on most computers. For this reason, you should undergo a test, as long as the warranty does not expire. To make sure that there is no defective area in the main memory that you should use in the future. Or just test your Windows on the high memory behavior to provoke other system errors or so ....


QuickMemoryTestOK Key Features:


◆ Memory Quick Test 
◆ Pause test to monitor the PC with high RAM load
◆ Customizable test runs 
◆ Clear display of memory status
◆ Keep the CPU's behavior in mind
◆ Access to essential memory and system functions  

Other options and specifications:
◆ Zoom: Visually-impaired and eye-friendly
◆ Very small program
◆ Low CPU usage
◆ Optional translation capability
◆ Portable
◆ Multilanguage



Simple example for the use of the "memory quick test"


Start the program. The first time, you will be presented with the default Quick Memory Test setting, but it can be customized at any time. You will be see all the relevant information about the current working memory and its use like in Windows XP Task-Manager.  

Start the memory test with the button "Start the Test", after the test start you can  abort it with the same button
"Stop the Test" and stop the memory test at any time.


There is then still the button "Pause / Resume" to pause the memory test, to see how the computer behaves at a certain RAM (memory) load.  (... see Image-1 Point 2)

Invalid or defective bytes are displayed: 
For suggestions and tips I am always open.



(Image-1) Quick Memory Test OK for Windows 10, 8.1, ... and Server!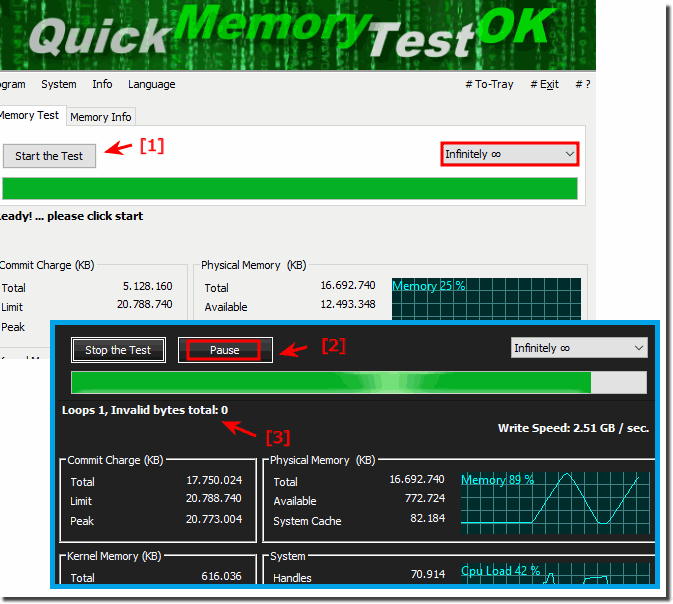 Memory test tool installation
QuickMemoryTestOK.exe.
You do not necessarily have to install the QuickMemoryTestOK tool, you can simply place QuickMemoryTestOK on the desktop and immediately benefit from the advantages; it can be used immediately on all Windows operating systems.
Thus it can be used under Windows as a portable application. 
# QuickMemoryTestOK Versions History
New in version 1.11 // 25 December 2019
Small fine-tuning for Windows 10 version 1909, 1903
Important update of the language files in Quick-Memory-Test



New in version 1.05 // 17 September 2019
Bug-Fix in: uninstall the memory test from Windows 10
Small adjustments Quick Memory Test
New languages for QuickMemoryTestOK: Chinese-Simplified
****
Many thanks to iYoung for the Chinese-Simplified language.



New in version 1.04 // 28 August 2019
Small adjustments Quick Memory Test
New languages for QuickMemoryTestOK: Slovenian, Polisch and Afrikaans

Many thanks to Jadran Rudec for the Slovenian language.
Many thanks to Fresta for the Polisch language.
Many thanks to African-Man for the Afrikaans language.



New in version 1.03 // 23 August 2019
Small adjustments Quick Memory Test
New languages for QuickMemoryTestOK: Traditional Chinese and Japanese

Many thanks to Danfong Hsieh for the Chinese-Traditional language.
Many thanks to Shōgun 将軍 for the Japanese language.



New in version 1.02 // 17 August 2019
Small adjustments and some optimizations in QuickMemoryTestOK
New languages for the Quick Memory Test: Korean, French, Bulgarian

Many thanks to VenusGirl~💖 for the Korean language.
Thanks to Largo for the French language
Thanks to karadzha for the Bulgarian language


... complete Versions History
# QuickMemoryTestOK is multilingual:
Use and supported operating systems
This elegant QuickMemoryTestOK freeware: 
Please 
download QuickMemoryTestOK 
and start it, for example, from the Windows 10 desktop.
The software is suitable for all Windows operating systems, x64 and x32!   
Is the software free for commercial use!
Yes! the software QuickMemoryTestOK is also free for commercial use and free of charge


Info about the memory Quick test
The number of passes can be set for the work memory test.
Watch the memory test tool for errors.
If there are no errors, it is likely that your RAM is causing no problems. If the system is unstable, you should investigate other hardware or software problems.

This QuickMemoryTestOK tool was created based on user request, here I have put my stuff into it and equipped it with a few extras. According to personal needs and the ideas of the users of this Windows tool is still extended. Have fun with this nice Windows tool, which will spare you a few simple steps under Windows. With under 300 KB a very small software, which is not wasting space on the hard disk, can be deleted at any time.
* Quick Memory Test OK for Windows 10, 8.1, ... and Server!
---
Info+ # Thanks+