One can execute as in the MS-Explorer commands from the Explorer address bars in Q-Dir starting from V7.33 on MS Windows 11, 10, ...!
If you want to start the command prompt or other programs, or handle directories and files through command interpreters. At version 7.33, start the windows command directly by run over the address bar, very handy! Also supported are
environment variables
, as in my
alternative run-command
from where the function was integrated.
Content:
1.) Run command from Address-Bar!
Tip for professionals: In addition: ...
Q-Dir internal parameters
converted !
Simply test, I'm always open for improvements: ►
... contact
(
... see Image-1 Point 1 and 2
)
(Image-1) Executing commands from the explorer address bars in Example!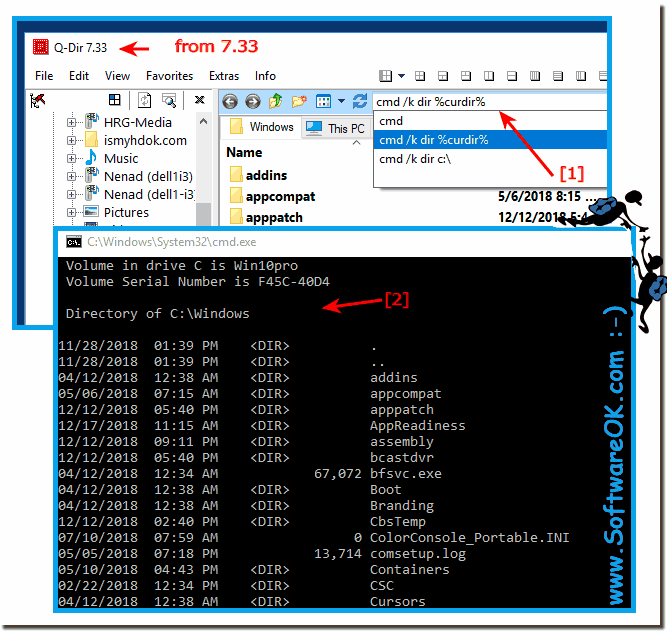 Info:
As you can see above in Windows 10 shot screenshot, it is now easy to start commands directly from the address bar, in this example also serves all solution for earlier versions of Microsoft's Windows operating systems. The programs can be used / started directly from the address bar, Q-Dir does not care if you use it on the Windows desktop computer, or if you run the commands on the Surface Pro / Go tablet on the go, or even on a business server in the office Operating system is used.
It really makes good sense to use this, command execution function, and a simple yet effective tool to manipulate and manage the data faster. It was tested on various MS -OS and successfully
verified
.
2.) Run Dialog in Main Menu!
(Image-2) Run commands fin Quad-Explorer Main Menu!