It is very pleasant that you can change directories more quickly under Windows 11, 1, 10, ... etc. using the address bar!
Switching from directory to directory is possible in both
Quad Explorer address bars
, as well as using the buttons on the right and left of the address bar. You can use it at any time if you want to change to a higher-level or another directory!
Content:
1.) The quick directory change under MS Windows OS! 
1. As always, start the ► 
Quad Explorer for MS Windows
2. And use the various options 
PS: To point 1: Right-click on Back or Forward in the course 
(
... see Image-1 Point 1 to 3
)
The fast one and easy jumping between the directories is very popular with all users who use the Quad Explorer under Microsoft's Windows desktop and server operating systems, which is understandable.
(Image-4) Address bar menus of Explorer views and folder selection!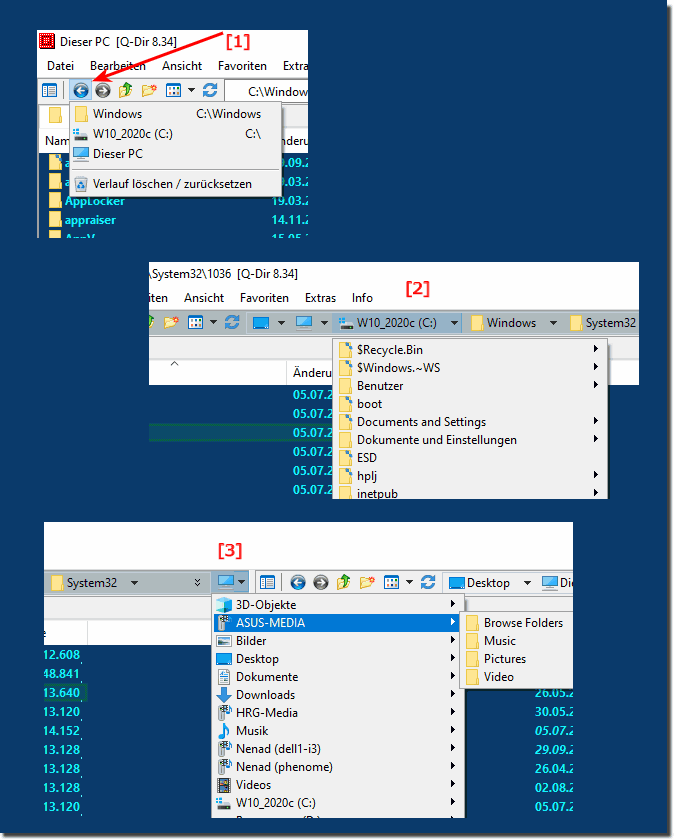 2.) Also use the directory tree in the address bar!
Why not, use the directory tree in the Explorer address bar, take advantage of the directory structure via the Explorer views! Without losing space and you can also benefit very quickly from the classic and modern address bar without the usual navigation via the Explorer directory structure!
(Image-2) The directory structure in the address bar is used by every Explorer!