If a new folder is created in the file explorer under Windows 11, 10, ... is sorted in the list you ask yourself how can I deactivate it to prevent it!
Preface:
With general automatic updates in File Explorer or in Q-Dir you should
simply restart Windows 11, 10, ... correctly
 it is a known Windows problem that the folders are not updated automatically after a while! The registry entries / registry scripts usually do not work with the automatically updating Explorer problem! 
1.) How to deactivate the sorting and automatic arrangement in folders in Q-Dir!
1. Start as always ►►
 the Quad Explorer for MS Windows OS
2. Open
Extras
  ►
List view
 ► 
Disable
the third and enable or disable the option:
"Disable Auto sorting when renaming or copying elements"
(
... see Image-1 Point 1 to 4
)
PS:
The automatic arrangement should now be deactivated and you can rename files or create new folders - these will not be rearranged automatically. 
(Image-1) Deactivate sorting for new objects in File Explorer!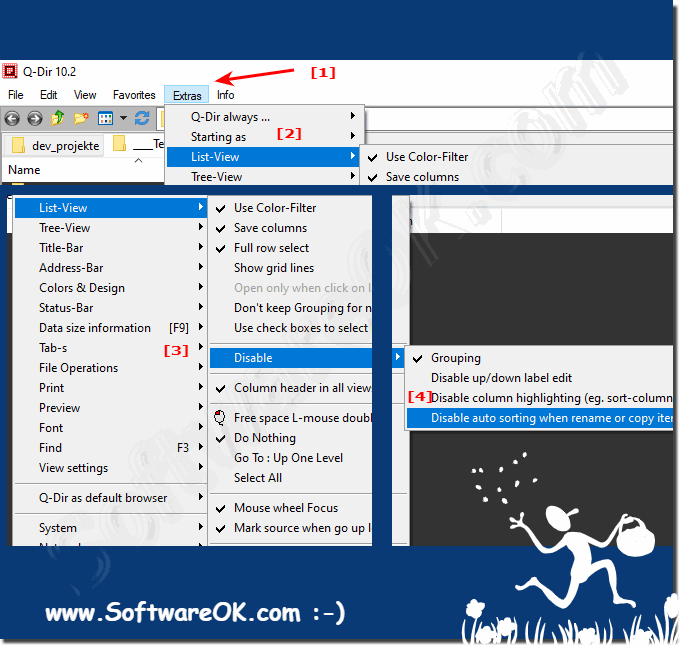 2.) Why should one change the sorting behavior in the file explorer Q-Dir?
User question:
As an old school
user,
I find this frustrating. I want to sort the items in my folder when I want them sorted. When I create new folders I don't want them to be sorted by date, not by name, not by grouping, etc. I want the folder to stay where it is.

I had it on my old XP computer the way I like it, why can't I also do the same with my folders under Windows 11 and 10, these are sorted when renaming and creating new folders!



Answer:



Please deactivate the sorting behavior for the individual File Explorer views on Windows 11, 10, ...!




(Image-3) 
Without file sorting for new folders or files!