Prevent Turn Off for all Windows OS desktop and servers and Timer!

Update on: 11 September 2023
Suitable for : Windows 11, Windows 10, 8.1, 7, ... , Server 2012-2019, 2022, x64, x32, x86

PreventTurnOff is a small and effective program that, as the name suggests, prevents the PC from going out or shutting down in a time-controlled manner!


Actually a shutdown timer with PC "Anti Blocking System", I didn't have much work with this program, because it is an offshoot of DontSleep before version 4.0. It only has the basic functions of DontSleep, but some users reported too many functions in DontSleep and problems with switching between the two modes, so PreventTurnOff is a simple shutdown timer with the advantages of an "anti-blocking system" and some extras features!


PreventTurnOff key functions:


◆ Ensures that the PC and monitor remain on
◆ Shuts down the PC at a certain time
◆ Quick access to energy options and so on


Other specifications:
◆ Very small program
◆ Low CPU usage
◆ Optional translation function
◆ Portable
◆ Multilanguage


Depending on the setting, the tool reports to the operating system that it has very important tasks to do, if the screen saver is to be activated or the monitor is to be deactivated, it is informed that it is required. It also reports to the system that it has the highest shutdown priority to prevent other programs from being closed beforehand before PreventTurnOff received this command and may therefore be closed and not intercepted by PreventTurnOff to prevent this.
Simple example of using the "PreventTurnOff Tool"
Start the program. The first time, the default setting for the blocking options will be suggested. You can change this at any time or temporarily deactivate the program, which is very practical! This is also possible via the info area on the taskbar. So you can quickly customize it, the timer has different options, what should happen to the PC or the program after the time!
(
... see Image-1 Point 1 to 3
)  That is is!
(Image-1) PreventTurnOff for all Windows OS desktop and servers!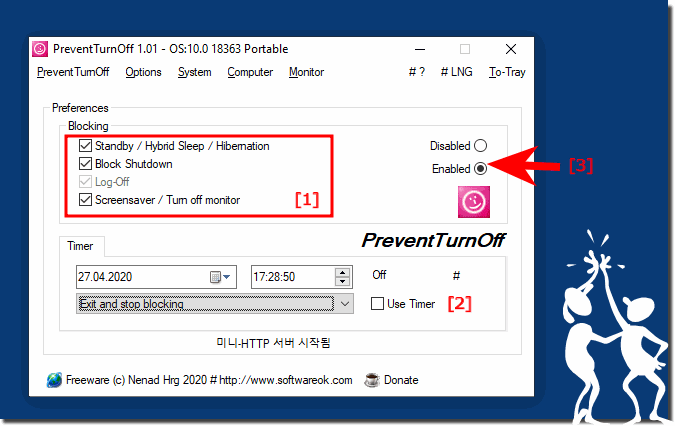 Options:
For example, you can use the options to set the program to start with Windows and, optionally, to activate and deactivate the timer when it is started and how it should start.
System:
You can use the system to access to various system-relevant settings with regard to energy efficiency.
To-tray:
You can also adjust the whole thing using the icon in the notification area of the Windows taskbar, which is very practical!
(
... see Image-2
)
PS: The program icon is also quite cute so that it does not deface the desktop!
(Image-2) Prevent Turn Off for Windows a desktop tool!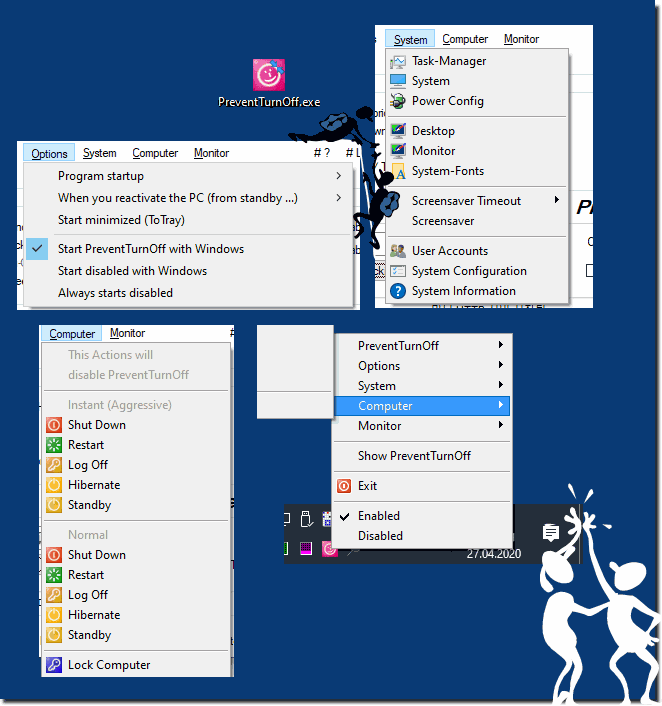 "PreventTurnOff" installation
PreventTurnOff.exe.
You do not have to install the PreventTurnOff Tool, you can simply place PreventTurnOff on the desktop and immediately benefit from the advantages of PC shutdown blocking, it can be used immediately on all Windows operating systems.
So you can use it as a portable application under Windows.

►► 
... PC shutdown prevention tool (uninstall)?
# PreventTurnOff Versions History
New in version 3.31 // 11 September 2023
Bug fix in Prevent-Turn-Off on some MS Windows 11 operating systems
Language file updates in PTO
New language for PreventTurnOff: Bulgarian

Thanks to Николай Воденичарски for the Bulgarian language.



New in version 3.23 // 20 August 2023
New code sign certificate for PTO.exe
Important tests of the Prevent Turn-Off APP for the next MS Windows 11/10 update
Update of language files in the Prevent-Turn-Off application



New in version 3.21 // 25 May 2023
Small tests and adjustments for the new MS Windows 11 update
Updated language files in the Turn off prevent APP for all Windows OS



New in version 3.11 // 6 November 2022
Review and test of PTO at Windows 11 22H2
General fixes and small optimizations in the Prevent-Turn-Off APP for Windows



New in version 2.44 // 10 July 2022
Small improvements and adjustments in Prevent-Turn-Off for Windows 10 and 11
Update of the language files


... complete Versions History
# PreventTurnOff is multilingual and a popular program worldwide:
Program Keys:
Use and supported operating systems
This elegant PreventTurnOff freeware, but also beautiful software is suitable for all Windows operating systems, x64 and x32!      
Is the software free for commercial use!
Yes! the PreventTurnOff software is also free for commercial use


* Prevent Turn Off for all Windows OS desktop and servers and Timer!
---
Thanks+