The hardware keyboard is simply the real keyboard, which you can also touch physically!





The hardware keyboard is also used under Apels MAC OS, Google's Android, Linux and as well as under Windows, not only under Windows 10, but without any problem on older versions of Microsoft's Windows operating systems, regardless of whether it is a Windows desktop, tablet, surface Pro / Go, or even a server operating system.




Content:



1.) The hardware keyboard!
The hardware keyboard is connected to the PC as an external device and usually belongs to the group of input devices and not output devices. Exceptions are keyboards that have a loudspeaker installed.

Here is an old Siemens Nixdorf keyboard from a desktop computer. But can also be connected to the server. If you have an MS Surface, notebook, laptop or tablet, you can connect it via a corresponding USB keyboard adapter PS2 and even nostalgically type on modern Windows 10 systems. 




(Image-1) Old hardware keyboard from Siemens Nixdorf1

2.) The difference hardware / software keyboard! 
When it comes to the software keyboard, people like to speak of the virtual keyboard, but also the on-screen keyboard . As the name suggests, this is a program that allows you to replace a real hardware keyboard. For example, in the event of an emergency that the keyboard is not at hand or even defective, so that you can log on to the computer (PC) even without a keyboard . 



(Image-2) Virtual software keyboard as a replacement for a hardware keyboard!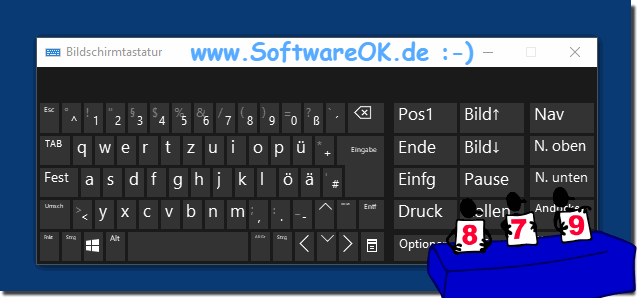 3.) What should I consider with the hardware and software keyboard?

However, it is not always the case that there are no problems and that the keyboard is recognized smoothly by the operating system; it can happen with some USB keyboards. You can get a so-called emergency keyboard to prevent and thus have an alternative. Until the detection works 100%.


FAQ 125: Updated on: 9 July 2021 15:55