An initial formatting of a hard drive, which initializes the physical tracks on the surface or the internal data carriers!


Typically, used computers or drives run a low-level format on the hard drive before the drive is sold with the computer. A low-level format is not something the drive owner is required to do, but it will prevent files from being recovered!

If a hard drive cannot be formatted, or if you need information on how to run a low-level format, a tool can be run that will overwrite the free space on the hard drive!




Remove the standard erasure tracks from the hard drive!



Open from the main menu, select Fill the free space with random numbers + and select the desired option:
1. End the program
2. Shutdown PC
3. PC Standby
3. End program + PC Standby

The free area of the hard disk partition will be filled with RANDOM NUMBERS. And the selected option will be started!





(Image-1) Clean the free space and put the PC in standby mode!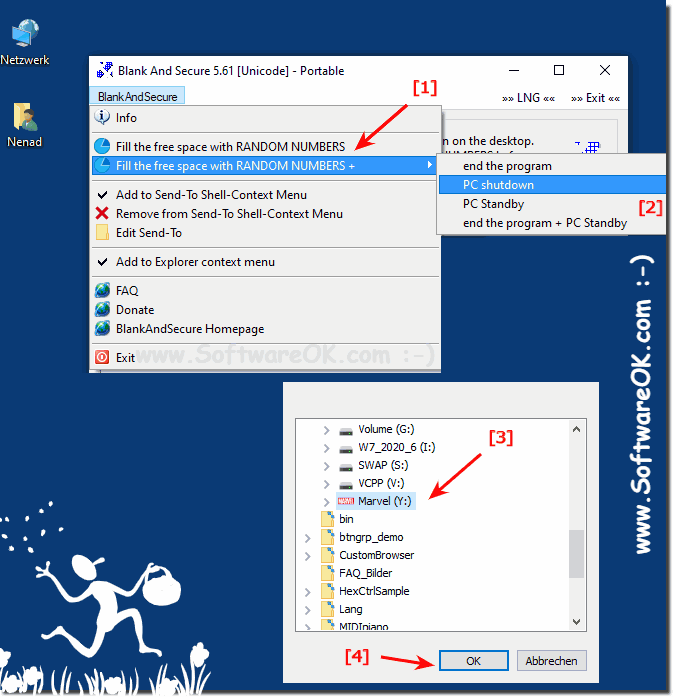 Info:
It is really very useful and advantageous to find these files that have not been safely deleted and then to delete them safely. It is a simple but effective tool for removing marks, it has been tested on everyone and has been successfully
verified
. As you can see above from the screenshot taken under Windows 10, it is easy to subsequently disguise deletion traces on the hard drive so that data protection is guaranteed, regardless of whether it is a Windows desktop, tablet, Surface Pro / Go, or even a Server operating system is.
FAQ 196: Updated on: 14 October 2020 17:51