It's easy to enable Microsoft PDF printer output on modern Windows desktop and server operating systems!
Modern Windows doesn't need tools like
Win-Scan-2-PDF
 because it offers us a built-in way to print a document to a PDF file. With this feature in Windows 10, 8.1, you can print
any document
to a PDF file at will. For various reasons, Microsoft Print to PDF may be missing as an option in the
list of printers .
You can enable Microsoft Print to PDF printing feature for all users on Windows using the instruction below!
Activate the Microsoft PDF printer output on Windows!


1. Please open apps and features on Windows  
PS (the quickest way is via Windows+R with the  appwiz.cpl command)

2. Click on "Activate Windows features..." 

3. And now simply activate the Microsoft PDF printer output

( . .. see Image-1 point 1 to 5 )

PS: You can then also see the printer in the standard printer folder under Windows , this PDF printer can be addressed like a normal hardware printer, even if it is a virtual  printer !





(Image-1) Install the integrated PDF printer driver for Windows!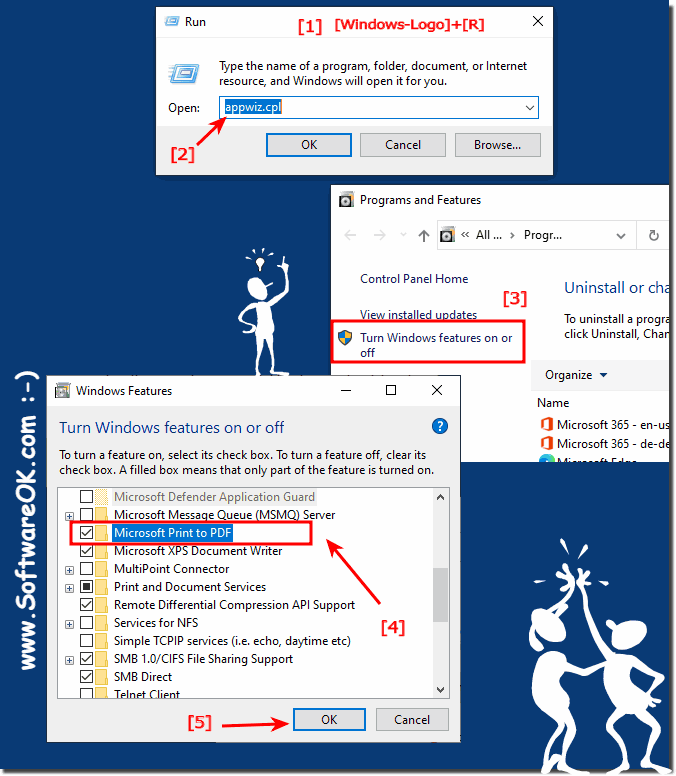 Info:

PDF files have to be dealt with for various reasons, especially when it comes to printing. As you may have noticed, Windows 10 presents this new handy feature called "Print to PDF feature". By following the above instruction, you have easily learned how to enable Print to PDF on Windows 10 and then use it later.



FAQ 2: Updated on: 29 July 2022 11:45