The solution to activate the Window 10/11 Start Sound and also for User Logoff, or Logon / Login on Windows 10 and 11!




This solution is also for other Microsoft Windows OS, Desktop and Server! 

Content:


See also: ► navigation area in Windows 10 Explorer ► The Typing in Windows 10 is slowly 

1.) Activate the sounds in the Windows-10 Registry!
Please start the Windows 10 Registry-Editor via Windows-Logo + R and regedit command.

Browse to key  HKEY_CURRENT_USER\AppEvents\EventLabels\ and Select the Key SystemExit ,

please set the ExcludeFromCPL from

"1"

to

"0"

 (... see Image-1 Arrow 1 to 6)

Please repeat the steps, for: WindowsLogoff, WindowsLogon and WindowsUnlock. 




(Image-1) Window 10 Start Sound, Logoff, Logon Registry entry!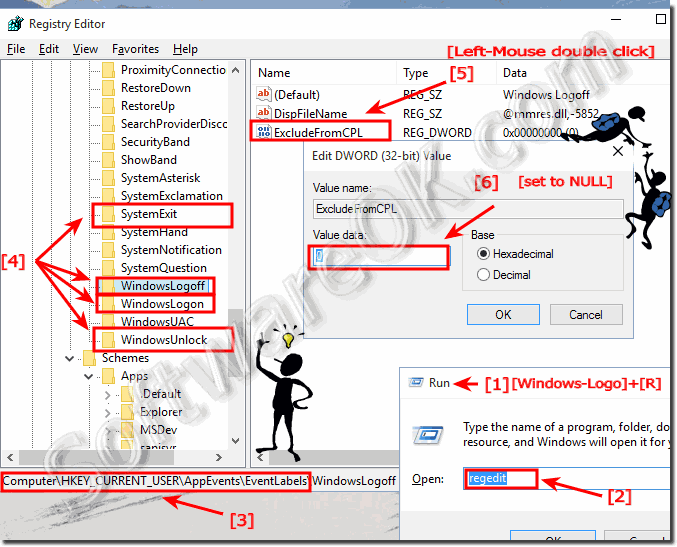 2.) Enable the Sounds in the Windows-10 Sound Scheme!
Please open in the the Windows 10 Control Panel the sound settings via the Sound icon. 

Or directly from the Windows 10 run dialog and command 

control /name Microsoft.Sound /page Sounds



Now you can quite easily activate the Windows 10 Start Logoff / Logon sound.
(... see Image-2 Arrow 1 to 7)



(Image-2) Enable the Window 10 Start Sound, Logoff, Logon!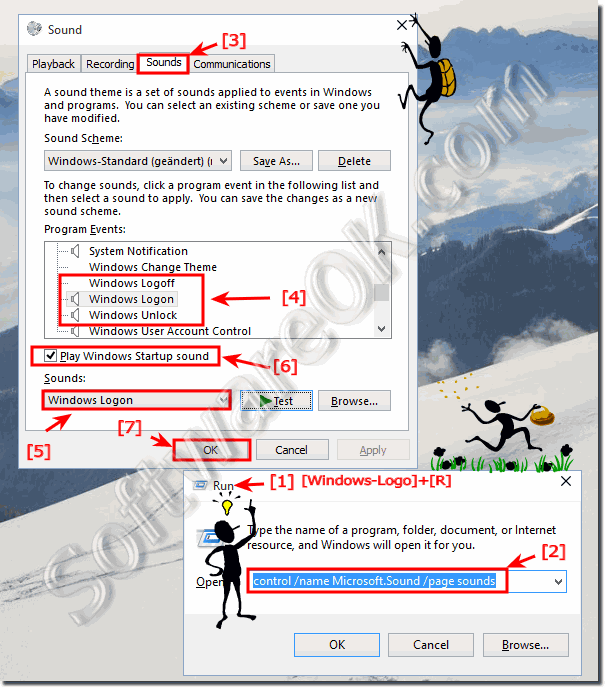 Useful Info from (c) Microsoft:

You can have your Windows-10 computer play a sound when certain events occur on your computer. (An event can be an action that you perform, such as logging on to your Windows-10 computer, or an action that your computer performs, such as alerting you when you receive new e‑mail.) Windows comes with several sound schemes (a collection of related sounds) for common events. Additionally, some desktop themes have their own sound schemes.

When you change one or more event sounds in Windows-10, a new sound scheme is automatically created, and is given the same name as the current scheme, but with "(modified)" added. For example, if the current scheme is Sonata, and you change one or more sounds, the new scheme is called Sonata (modified). The original sound scheme is preserved with its original Windows-10 name .


Windows 10 Sound events!
Windows
Asterisk
Calendar Reminder
Close Program
Critical Battery Alarm
Critical Stop
Default Beep
Desktop Mail Notification
Device Connect
Device Disconnect
Device Failed to Connect
Exclamation
Exit Windows
Instant Message Notification
Low Battery Alarm
Maximize
Menu Command
Menu Pop-up
Message Nudge
Minimize
New Fax Notification
New Mail Notification
New Text Message Notification
NFP Completion
NFP Connection
Notification
Open Program
Print Complete
Program Error
Question
Restore Down
Restore Up
Select
Show Toolbar Band
System Notification
Windows Change Theme
Windows Logoff
Windows Logon
Windows Unlock
Windows User Account Control
File Explorer
Blocked Pop-up Window
Complete Navigation
Empty Recycle Bin
Feed Discovered
Move Menu Item
Notification bar
Start Navigation
Windows Speech Recognition
Disambiguation Numbers
Disambiguation Panel
Misrecognition
Off
On
Sleep
FAQ 103: Updated on: 25 August 2023 12:26