Update on: 2 April 2020
Suitable for Microsoft : Windows 10, Windows 8.1, Windows 8, Windows 7, Server 2000-2016, XP, Vista, x64/x32/x86

Process.K.O. is a small useful tool designed to quickly kill any running or hanging process / program on you Windows OS. 


# About the Process Terminator!

ProcessKO is for professionals and experienced users, with very good PC "know-how" (knowledge)!

It is not uncommon amongst developers or program-testers that the program they are testing either doesn't function properly... or that one cannot even close the program (using the Taskmanager). What's more, it's usually always the usual suspects that give the trouble.

► Creating Favorit-KO's for the fast killing of processes or programs!

Developers and bata-testers especially are familiar with this problem: When a program freezes, one usually calls up the task manager by pressing CTRL+ALT+DEL One then must find that frozen program in the list, then one has to find and select the option "End Process". Finally one has to confirm the prompt, "Are you sure you want to terminate the process" with a "yes".

Now one can save many hand moves and also save time! And it's easier than ever. With ProcessKO, terminating any process or program goes faster and ► the windows program can even be restarted from ProcessKO.

# Installation!
ProcessKO does not have to be installed and can be executed easily from the desktop. It's one small, portable utility for Windows PC-s and is also a small usb-stick friend :)

Operating systems: Windows 10, Windows 8.1, Windows 7, Windows Server 2000, 2008, 2016, Windows XP, Ultimate, Pro, Enterprise, Home, Business, Edition, 64-bit & 32-bit edition



# ProcessKO Versions History


New in version 4.83 // 2 April 2020
Small fixes and retests for Windows 10 Build 2004 / April 2020
Update of the Process-KO language files



New in version 4.77 // 18 November 2019
Small adjustments and corrections plus updates of the language files
Testing and Verifying for Windows 10 November 2019 Update Build 18362



New in version 4.75 // 28 September 2019
Optimization when listing and terminating the processes
Small corrections and new languages in Process-KO: Mexican-Spanish
      
Many thanks to A.V.V for the Mexican-Spanish.



New in version 4.74 // 24 September 2019
Small corrections and new languages in the Process-KO: Japanese

Many thanks to Shōgun 将軍 for the Japanese language.



New in version 4.72 // 13 August 2019
Improvements: when restart windows programs or processes with ProcessKO!
Update of ProcessKO language files
And again adjustments for next Windows 10 build




... complete Versions History




# ProcessKO is multilingual:

Program Keys:

Listed at: Softwareload.de ZDNet.de softpedia.com freewarefiles.com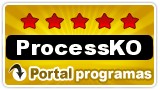 * Close Hanging Programs, Apps and Processes on Windows! 
---
Thanks+