Useful for Windows 11, 10, ... Files and Folder Copy and Paste Actions!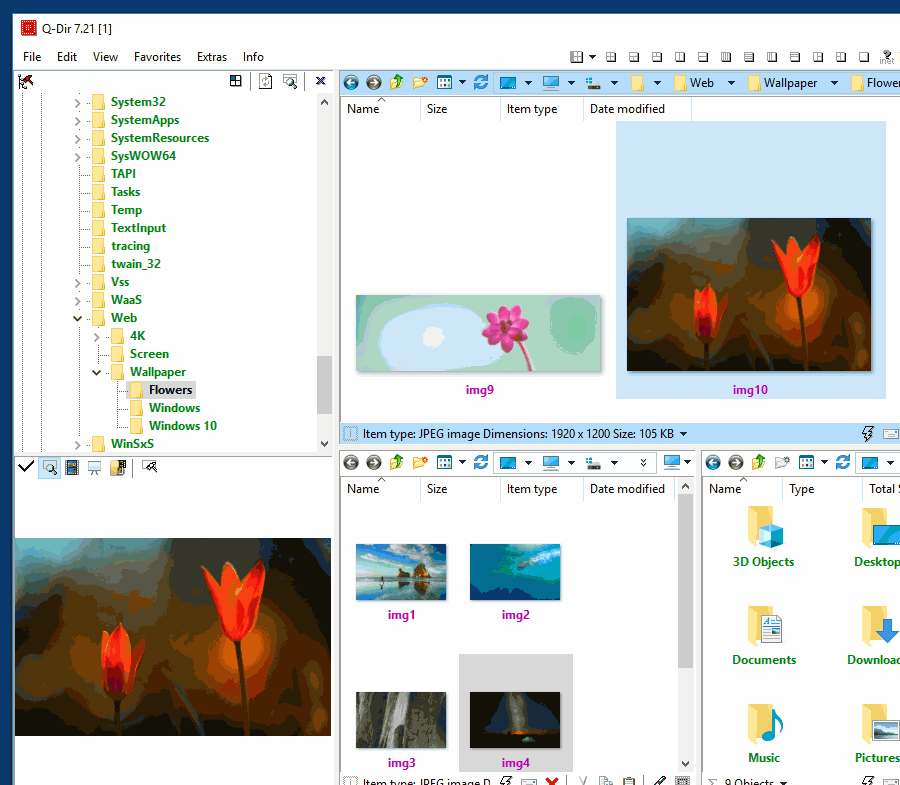 The Quad-Explorer is a very comfortable file management program that can work with up to four browser windows. Files can be quickly dragged and dropped between the windows, eliminating the tedious switching between the individual windows.




To quickly access frequently used folders, you can create favorites. Use the address bar to get to your destination just as quickly: or through the Innovative and Practical Shell Menus Desktop and Workstation. 

Q-Dir not only has standard features like copy, delete and rename. All views known under Windows are supported. Details view including all file details, such as the MP3 tag. Interesting for users who work with MP3 audio files, or want to quickly print a clear audio list. 


Likewise, the thumbnail view, which is very popular especially for users who work a lot with images . For moving the image files between different folders, the thumbnail view is the best choice.

Four browser windows are available, the files and / or folders can be easily dragged and dropped to another window or copied, eg to another directory or drive.

Furthermore, the tile view, list view and icon view are supported!

The software is not only suitable for Microsoft Windows 11 / 10 / 8.1 / 7, but also for Windows Server 2019/2016 and Microsoft Surface Pro and Go.

Q-Dir is a multi-window file explorer that allows you to use up to 4 separate window explorer views (Quadro-View) while maintaining all standard explorer features.

It also offers a number of additional file management features including color coded file filters, customizable layouts and columns that allow quick access to the favorite file and folder, and much more.




Other features include the export of directory listings (.txt, .doc, .html, .csv), color themes, network support, support for all explorer views, and more. 

The program helps you with the daily work in Windows.