The solution is simple to start Auto-Hide-Mouse-Cursor Free always minimized eg. to-tray on all MS Windows Desktop and Server OS!


Content / Example / Tip:


1.) Auto-Hide-Mouse-Cursor for Windows 11, 10, ... etc. in tray
Please start the Program Auto Hide Mouse Cursor and click on Options and please select Always start minimized (system tray) to start the program AutoHideMouseCursor always in the notification area (To-Tray)!
(... see Image-1 Arrow-1)





(Image-1) Start Auto-Hide-Mouse-Cursor always to-tray!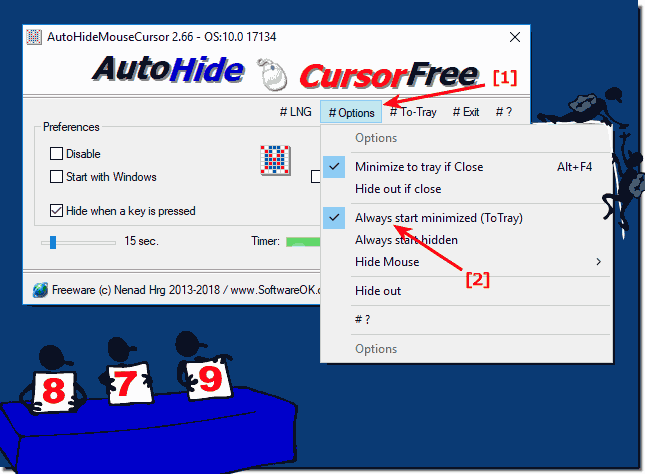 2.) Auto-Hide-Mouse-Cursor for Windows 11, 10, ... amd MS Server on top
It is easy to disable Always ON-Top (... see Image-2 Arrow-1)

It is really so and don't make sense in this program ;-)


But some of the user will see also others programs on top!


This was an user request (improvement suggestion)






(Image-2) Disable Always ON-Top the Auto-Hide-Mouse-Cursor!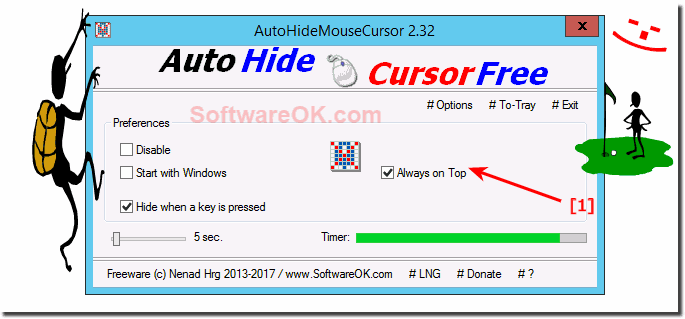 Info:
In order to start
the mouse cursor Hide software
always Minimized in the info area of ​​the Windows taskbar To start it does not require any mouse cursor expertise. The elegant solution is not only written for Windows 10, although this screenshot has been made under Windows 10. You can use this program to hide the mouse automatically as a solution without any problem even on earlier versions of MS Windows operating systems. The mouse cursor tool does not care if it is a Windows desktop computer, or in the mobile tablet PC, Surface Pro / Go, or even on a MS server operating system where the mouse cursor can also be very annoying.
FAQ 2: Updated on: 28 August 2023 09:13