The cursor is hidden when recording on the screen. When playing the video, the mouse pointer is visible, why?



The video recording software generated in the recording of the video probably the cursor directly in the video, some desktop video recorder option have ruled to move the cursor in the record, or integrate a custom the video without a mouse cursor or a separate  desktop PointerStick to present!


What can I do about it in AutoHideMouseCursor to exclude the cursor!


1. As always ►► start the mouse cursor fade out tool!

2. Do a sample desktop video recording with different options

Try it with: 1. Classic strategy 2. New strategy 3. "New strategy + Aggressive"
(... see Image-1 Point 1 to 3)

If it is using one of the mouse cursor hiding strategies works, please use it for your desktop video recording!


PS:
If it doesn't work, you can contact the manufacturer of the video recording software to see if they can somehow make it optional to fix the "ignore mouse cursor" problem, or you can look for another desktop recorder software that can handle the mouse cursor hide function included by default!



(Image-1) Screen recording Cursor hidden, play video the mouse pointer is visible!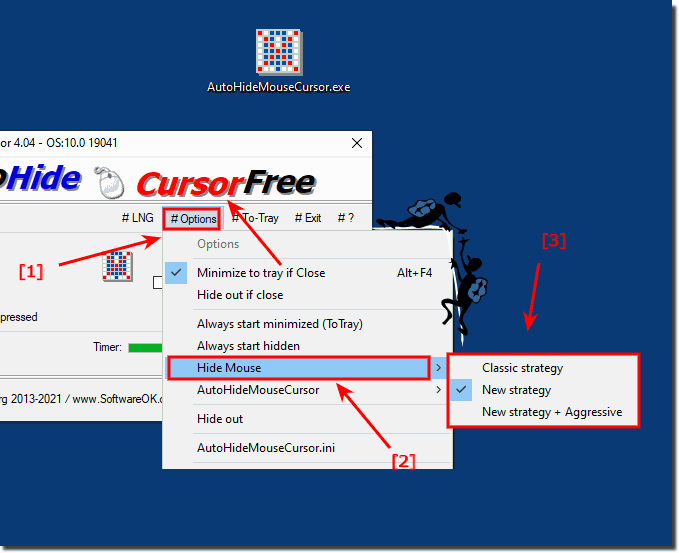 Screen recording Cursor and play video mouse pointer visible problem on Windows 11, 10 , 8.1, 8, 7: Pro, Home, Enterprise, Basic, Premium, Professional, Starter, Ultimate, Windows-Server 2019, 2016, 2012

FAQ 9: Updated on: 28 August 2023 09:14