It is almost more important that the computer goes into the sleep mode, than that the standby state is prevented in Windows 11, 10, ... by Don't Sleep!
This new feature is in don't sleep from version 4.01! 

Please sleep is the opposite to the no sleeping mode, the Don't Sleep standard mode. Because some programs really prevent that the computer or monitor goes in sleep mode, or Windows itself thinks it doesn't have now. And that takes power (bad for the green nature) 


Wouldn't know how big is the damage worldwide through pointless running computer. I think there are millions per day.
1.) The solution for the sleep problem under windows!
With the two separate controllers you can set when the PC should put the monitor or the computer in standby. And whether mouse events or keyboard events should be respected, or both. (... see Image-1 Arrow 1 & 2)

 

I am open for suggestions for improvement. ;-)

 

To better identify in which mode you are located, the program and To-Tray icon in the notification will be changed, the area of the Windows taskbar. (

... see Image-1 Arrow-3

) 




Info for Softwaretester: sleep mode is not supported in Virtual PC (for example virtual box). Similarly, if drivers are not correctly installed (drivers of the graphics card, CPU,...)





(Image-1) Please Sleep Feature in Dont-Sleep on Wndows-10!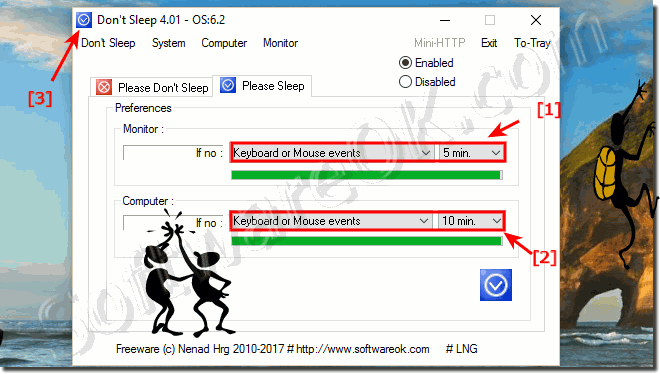 2.) Auto switch for system power options!



With this tool allows you to benefit from the advantages of different energy modes. 

 
► .... How can i use the Auto Power Options OK for Windows OS!



Here in the example,

 as long as no keyboard input and no mouse action takes place and that for 10 seconds, the PC is in the most economical and most gentle energy saving mode, at mouse or keyboard events, the auto energy mode is switched to the 

balanced

  energy plan. 

 



The time is adjustable in the program from 10 seconds to 5 minutes. 





(Image-2) Auto Power Options Switcher!


3.) Detect Xbox Controller and / or Joystick events (from Version 4.93)!
From version Don't Sleep 4.94 in "Please Sleep Mode" enables the possibility if activate Keyboard Events to detect Xbox Controller and / or Joystick Events, so the Keyboard Events setting includes the Xbox One, Xbox 360 Controller, and other joystick events!



(Image-3) watch Xbox Controller an Joystick Events!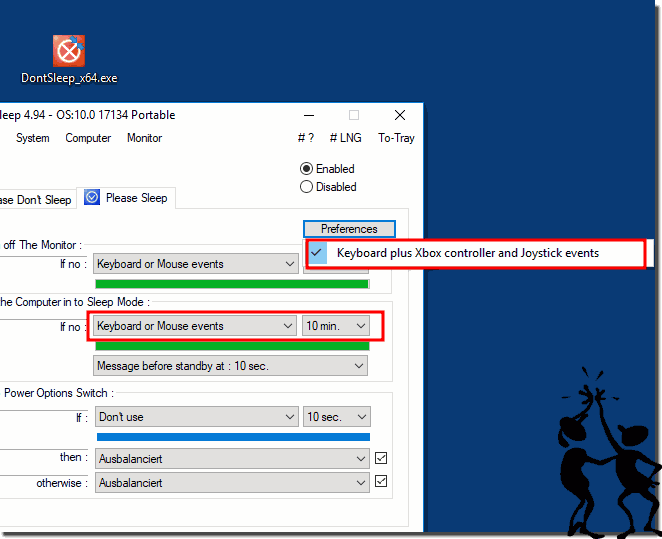 4.) Mouse-Tolerance from Ver. 5.11 in Please Sleep Mode!
(Image-4) Mouse-Sensitivity-Tolerance in Please Sleep Mode!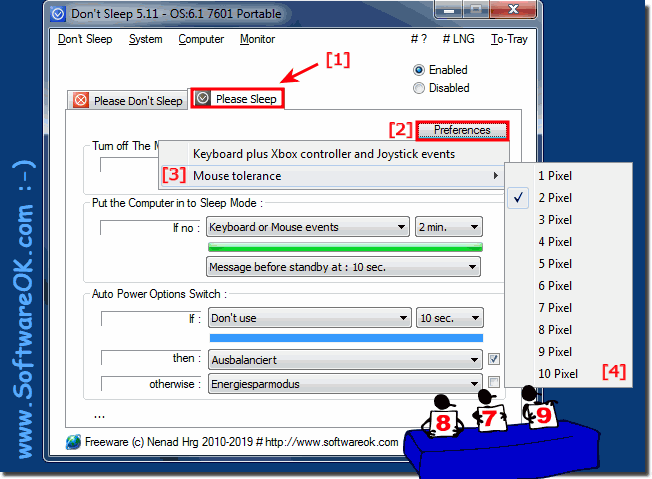 FAQ 11: Updated on: 12 September 2023 06:10