The world time-time zones are divided into areas of 15 ° around the globe (earth)!


Contents :


There are 24 time zones (24 hours), since the globe has 360 degrees, the distribution angle is 15 degrees!

24 x 15 = 360 :-)

More about the time zones: .... wikipedia.org/wiki/Timezone

Overview of the time zones: ... World Time, Time Zone Map, UTC
Time Difference: ... Time Zone Calculator: Time Difference
Another overview map: ... time..org/world.time! ... World time zones allow time to be standardized




(Image-1) The time zones!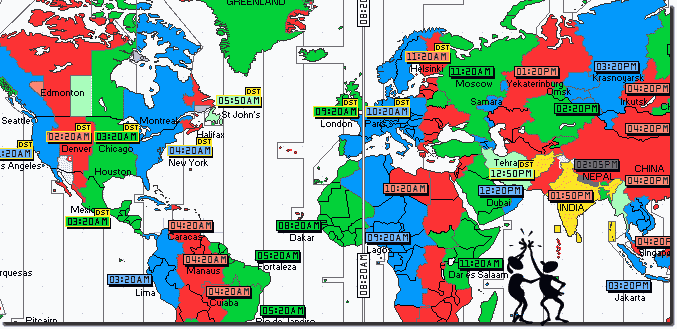 2.) Time zone calculation and GMT!
All time zones are measured from a starting point based on England's Greenwich Mean Time. This point is known as the Greenwich Meridian or Prime Meridian. The time on the Greenwich Meridian is known as Greenwich Mean Time (GMT) or Universal Time. For example, the time zone in the United States is referred to as GMT minus five hours. When it's noon in the US, it's 5 p.m. at Greenwich Observatory.

► more  ... information about GMT
►► World time zones allow time to be standardized!



3.) Why world time zones?


If we had a single time zone for Earth, noon would be the middle of the day in some places, but in others it would be morning, evening, and middle of the night. Since different parts of the earth have the sun rise and set at different times, we also need different time zones on earth.

The Earth rotates on an imaginary pole, also known as the Earth's axis. Every 24 hours the Earth makes one complete revolution around its axis. We perceive each full revolution as a day and label it as such.

Different time zones mean that no matter where you live on planet Earth or are, midday is the middle of the day, when the sun is at its highest point, while midnight is the middle of the night and the sun is on the opposite side of the globe (180°), where it is currently noon, i.e. 12 o'clock.




4.) World time zones allow time to be standardized!


World time zones are used to divide time on Earth into different sections to facilitate the coordination of activities, communication and navigation over long distances. Here are some important reasons to use world time zones:




Standardization of time: World time zones allow for standardization of time across the world. This is important to ensure that people, companies and organizations in different parts of the world have a common reference time.

Coordination of activities: World time zones make it easier to coordinate activities, especially in global economic areas such as financial markets, trade and transportation. Without time zones, it would be difficult to conduct business or create flight schedules across different countries.

Communication: Times in world time zones facilitate communication between people in different parts of the world. For example, knowing what time zone the person you're talking to is in can help you plan meetings and calls better.

Navigation: The use of world time zones is also important for navigation at sea and in the air. Navigation instruments use time information to determine the precise position of a ship or aircraft.

Use of daylight: The division into time zones also makes it possible to optimize the use of daylight. In some parts of the world, clocks are set forward (daylight saving time) in the summer and back in the winter to make better use of daylight hours and save energy.

Historical reasons: The introduction of world time zones has historical reasons and goes back to the emergence of railway transport and telegraphy in the 19th century. At that time, the need to develop a uniform method for measuring and coordinating time was recognized.



Info:

Although world time zones facilitate global communication and coordination, they can also cause confusion, especially when it comes to daylight saving time, different time differences, and the date line. Yet they are an important part of our modern lives, helping to connect the world and supporting global trade and cooperation.





FAQ 35: Updated on: 9 October 2023 05:38