The touchscreen test for defective touch points is quite simple, without specialist expertise and specialist force expressions!


Content:

1.) Why should you identify defective contact points?
There are expert tools for touchscreen testing, but these are more what "hair in the soup viewfinder", IT experts or the federal intelligence service, which are usually nothing to say for the Windows user. This is where technical terms fall that you probably don't care about. It's very different with this tool! What's the point of the water scale saying that the picture is hanging when it looks skewed!






(Image-1) Touchscreen test for defective touch points for All!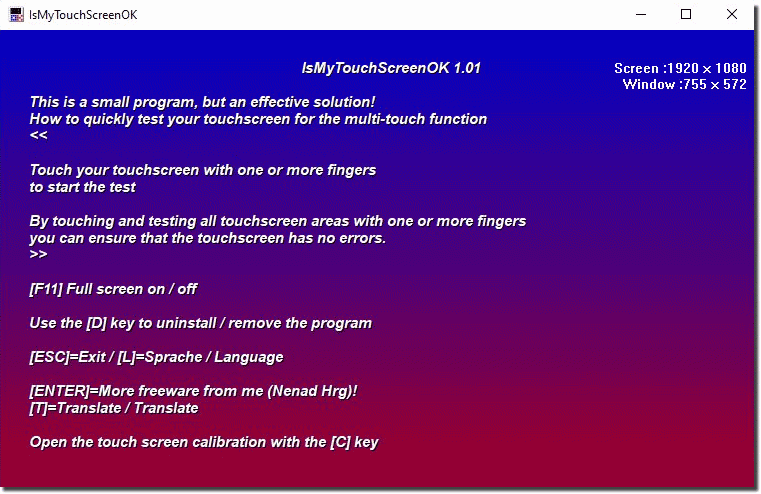 2.) More about touchscreen testing and what it's good for?

Testing broken touch points on a touchscreen is important to ensure the device is functioning properly and providing accurate input. Here are some reasons why you should test a touchscreen for broken touchpoints:

User experience: Broken touchpoints can significantly impact the user experience because they can cause certain areas of the screen to become unresponsive or register unwanted input.

Accuracy: For applications that require precise input, such as When performing tasks such as drawing or handwriting recognition, broken touch points can affect accuracy and produce unwanted lines or letters.

Productivity: On a device used for business or productivity, a touchscreen with broken touchpoints can slow down work and lead to frustration.

Games and Entertainment: When you play games or enjoy multimedia content, broken touch points may cause certain parts of the screen to not respond properly, negatively impacting the gaming experience.

Device Life: Detecting and fixing broken touchpoints early can extend the life of your touchscreen device, as untreated problems can worsen and lead to further damage.




To test broken touchpoints, you can use special testing applications or tools that scan the screen for errors and show you if certain areas are unresponsive. You can also do a visual test, such as opening a drawing or note-taking app and drawing across the entire screen to make sure each area is responding correctly.

If you find that your touchscreen has broken touch points, it is advisable to have the problem repaired as soon as possible by either the manufacturer or an authorized service provider to ensure optimal function of your device.







FAQ 3: Updated on: 26 October 2023 11:21