The solution is conceivably easy to activate in OneLoupe the screen magnifier under Windows!





Please note that this solution is suitable for all Windows operating systems, the Magnifier is also suitable for older versions of Microsoft's Windows operating systems and can be used to enlarge the desktop area, no matter if it is a Windows desktop, tablet, Surface Pro / Go , or even a server operating system.




Content:



1.) activate magnifying glass under Windows!
Please click or tap on the To-Tray Symbol of the OneLoupe or simply use the keyboard shortcut Windows + Esc!
(... see Image-1)

Please ... Download OneLoupe!



(Image-1) enable and disable the screen magnifier!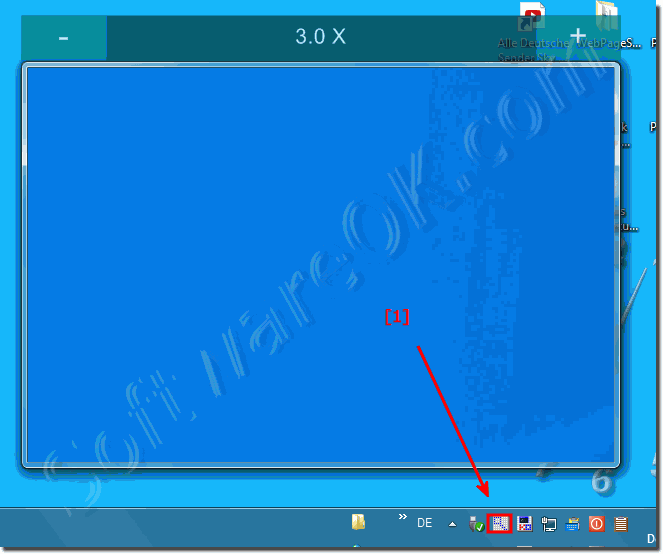 2.) normal, real time, full screen?


You can use the magnifying glass in three different modes except full screen and not full screen which can be activated with the F11 key.


Is there normal, real time, real time + mouse!


The normal mode is as XP knows a passive mode it will be create a screenshot and this is enlarged so that the impression arises that the screen is enlarged or part of it!

In real-time mode, a screenshot of the screen is also taken but 10-20 times per second and according to your setting only a part or the entire screen is enlarged.

In real-time mode + mouse is the same only that you can continue to use the mouse as normal, so work normally on the PC.

Try each of these modes to see which one is most convenient for you.

In full screen mode, the entire screen is enlarged. It is likely that zooming will not allow the entire screen to be displayed at the same time. However, moving the mouse pointer over the screen allows you to see all areas of the screen.

In lens mode or not full screen, moving the screen, the magnifying glass is moved as in real life.
The view of the magnifying glass works on the desktop, in this view, the part of the screen is enlarged.

FAQ 5: Updated on: 24 June 2019 04:01