This OpenCloseDriveEject tool was created based on user request, here I have put my stuff into it and equipped it with a few extras!
1.) Conveniently eject the data medium on MS Windows!
It is more comfortable than the system's own and has more useful features! Here in the example with zoom factor in the task afford menu. Simply eject the icon in the info area of ​​the Windows taskbar and drive, or safely remove. Yo can use also the System Default Tool for 

Eject the CD Tray or open the DVD / Blue-Ray drive in windows 10

 at any time.






Please use the ►► latest version ... Open, Close, Drive, Eject !




(Image-2) Open, Close, Drive, Eject DVD, USB, CD, BlueRay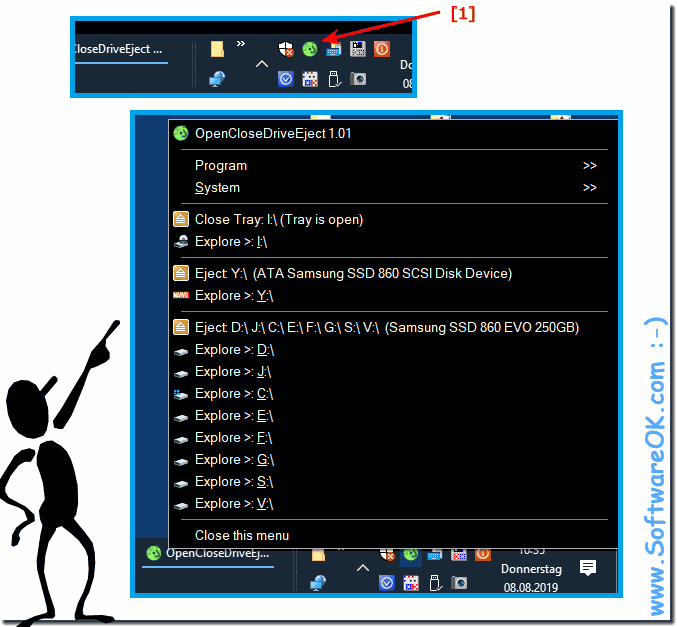 Info:
Obviously, hacking out a drive being written to can corrupt the data.
Even if the drive is not actively written, the data may still be damaged.
By default, most operating systems use write caching for better performance of your computer.
If you write a file to another drive, for example:
A flash drive, the operating system waits to actually perform these actions until a series of requests have to be met, and then executes them all at the same time, more often when writing small files.


2.) Does it make sense to safely remove the data carriers on Windows 11, 10, ...?


With so many different ways to safely eject your USB drive, hard drive,... there's really no reason why you should risk data corruption by removing it when you shouldn't. However, if you want to save a few clicks and some time, there is an easy way to "safely remove" your drive using this tool.



FAQ 1: Updated on: 4 September 2023 08:32