The display language in Windows 11, 10, ... is the display language you have selected, the default language is used by all Windows settings, file explorer, ...!





Start to do the following MS PowerShell in Administrative mode 
Windows + R command PowerShell and  Ctrl + Shift + Enter to start


1.) How to show a list of currently installed language packs!
1. Start the command  DISM /online /Get-Intl

2. And you can see the installed languages

(... see Image-1 Point 1 to 3) 



(Image-1) Quickly see installed Windows language with PowerShell!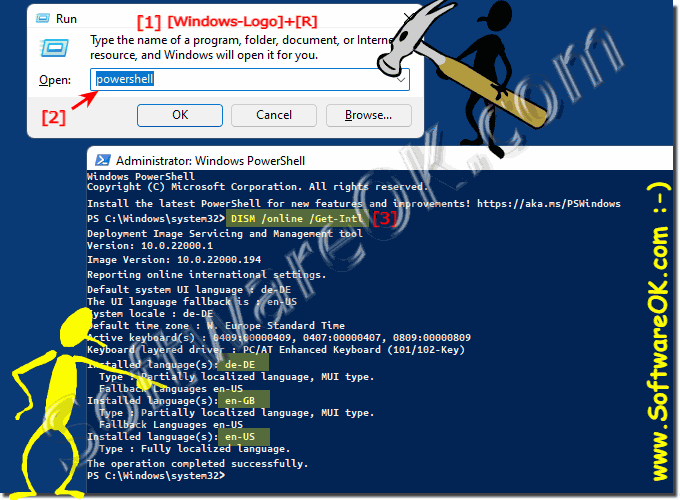 2.) Change the language with PowerShell!

Here is an example to switch to German, en-US, logging off and logging on to the Windows computer is required!

In example, for English UK use en-GB!





Windows PowerShell
Copyright (C) Microsoft Corporation. All rights reserved.

Install the latest PowerShell for new features and improvements! https://aka.ms/PSWindows

PS C:\Windows\system32> Set-WinSystemLocale en-US
PS C:\Windows\system32> Set-WinUserLanguageList en-US -Force
PS C:\Windows\system32>






3.) ... What should be considered when changing the language!


The language abbreviations / tags are used, the language must have been installed beforehand in order to use them. Here is a small list of available languages ​​under Windows!




| | |
| --- | --- |
| language | Language abbreviation / day |
| Afrikaans (South Africa) | af-ZA |
| Albanian (Albania) | sq-AL |
| Amharic (Ethiopia) | am-ET |
| Arabic (Saudi Arabia) | ar-SA |
| Armenian (Armenia) | hy-AM |
| Assamese (India) | as in |
| Azerbaijan | az-Latn-AZ |
| Bangla (Bangladesh) | Billion BD |
| Basque (Basque) | I-ES |
| Belarussisch | be-BY |
| Bangla (India) | bn-IN |
| Bosnian (Latin) | bs-Latn-BA |
| Bulgarian (Bulgaria) | bg-BG |
| Catalan | ca-ES |
| Central Kurdish | ku-ARAB-IQ |
| Cherokee | chr-CHER-US |
| Chinese (Hong Kong SVR) | zh-TW |
| Chinese (PR China) | zh-CN |
| Chinese (Taiwan) | zh-TW |
| Croatian (Croatia) | Std-HR |
| Czech (Czech Republic) | cs-CZ |
| Danish (Denmark) | da-DK |
| From | prs-AF |
| Dutch (Netherlands) | nl-NL |
| English (USA) | up to |
| English United Kingdom) | up to |
| Estonian (Estonia) | et-EE |
| Filipino | fil-PH |
| Finnish (Finland) | fi-FI |
| French (Canada) | fr-CA |
| French France) | fr-FR |
| Galician | gl-ES |
| Georgian (Georgia) | ka-GE |
| German Germany) | up to |
| Greek (Greece) | el-GR |
| Gujarati (India) | gu-IN |
| Hausa (Latin, Nigeria) | ha-Latn-NG |
| Hebrew (Israel) | er-IL |
| Hindi (India) | hello-IN |
| Hungarian (Hungary) | hu-HU |
| Icelandic (Iceland) | is-IS |
| Igbo (Nigeria) | ig-Language |
| Indonesian (Indonesia) | I did |
| Irish (Ireland) | ga-IE |
| isiXhosa (South Africa) | xh-ZA |
| isiZulu (South Africa) | to-ZA |
| Italian (Italy) | it it |
| Japanese (Japan) | i-JP |
| Kannada (India) | kn-IN |
| Kazakh (Kazakhstan) | kk-KZ |
| Khmer (Cambodia) | km-KH |
|   |   |
| Kinyarwanda | rw-RW |
| Kiswahili (Kenya) | sw-KE |
| Konkani (India) | cook |
| Korean (Korea) | ko-KR |
| Kyrgyz (Kyrgyzstan) | ky-KG |
| Laos (Laos) | it-LA |
| Latvian (Latvia) | lv-LV |
| Lithuanian (Lithuania) | lt-LT |
| Luxembourgish (Luxembourg) | lb-LU |
| Macedonian (FYROM) | mk-MK |
| Malay (Malaysia, Brunei and Singapore) | ms-MY |
| Malayalam (India) | ml-IN |
| Maltese (Malta) | mt-MT |
| Maori (New Zealand) | mi-NZ |
| Marathi (India) | Mistress |
| Mongolian (Cyrillic) | mn-MN |
| Nepali (Democratic Federal Republic of Nepal) | ne-NP |
| Norwegian, Bokmål (Norway) | nb-NO |
| Norwegian, Nynorsk (Norway) | nn-NO |
|   |   |
|   |   |
| Polish (Poland) | pl-PL |
| Portuguese (Brazil) | pt-BR |
| Portuguese (Portugal) | pt-PT |
| Punjabi (India) | pains |
| Punjabi (Arabic) | pa-Arabic-PK |
| Quechua (Peru) | quz-PE |
| Romanian (Romania) | ro-RO |
| Russian (Russia) | ru-RU |
| Scottish Gaelic | gd-GB |
| Serbian (Cyrillic, Bosnia and Herzegovina) | sr-Cyrl-BA |
| Serbian (Cyrillic, Serbia) | sr-Cyrl-RS |
| Serbian (Latin, Serbia) | sr-Latn-RS |
| Serbian (Latin, Serbia) | sr-Latn-RS |
| Sesotho sa Leboa (South Africa) | nso-ZA |
| Setswana (South Africa) | tn-ZA |
| Sindhi (Arabic) | sd-arabic-PK |
| Sinhala (Sri Lanka) | silk |
| Slovak (Slovakia) | sk-SK |
| Slovenian (Slovenia) | sl-SI |
| Spanish (Mexico) | es-MX |
| Spanish (Spain) | it-IT |
| Swedish (Sweden) | sv-SE |
| Tajik (Cyrillic) | tg-Cyrl-TJ |
| Tamil (India) | of the IN |
| Tatar (Russia) | tt-RU |
| Telugu (India) | te-IN |
| Thai (Thailand) | Do-TH |
| Tigrinya | ti-ET |
| Turkish (Turkey) | p-CHILD |
| Turkmen | tk-TM |
| Urdu | ur-PK |
| Ukrainian (Ukraine) | UK UA |
| Uighurs | and-CN |
| Uzbek (Latin) | uz-Latn-UZ |
|   |   |
| Vietnamese | en-VN |
| Welsh (UK) | cy-GB |
| Wolof | where-SN |
| Yoruba (Nigeria) | yo-NG |
FAQ 1: Updated on: 29 September 2021 10:55