With Windows 10 disabled Windows Defender directory protection problems arise when inserting the portable version of the Process Terminator!
Some users do not know that portable programs in the working directory store the settings and this is not always possible with Windows 10 and Defender Folder Protection enabled because some one run the program from the desktop.

Content:
1.) ... The portable Version of ProcessKO! 
2.) ... The standard version of ProcessKO!

1.) The portable Version of ProcessKO! 
The portable Process Terminator stores in the working directory setting, please do not use a folder with folder protection in Windows 10, otherwise the settings can not be saved. 

For better recognition, from 4.41 the program title also indicates that it is the portable version of ProcessKO_p.exe. 

You can also make the standard portable version by which  
_p

 
 in the file name!  

ProcessKO_p .exe = Portable 
ProcessKO.exe = Default
(Image-2) Portable use of the process killer under Windows!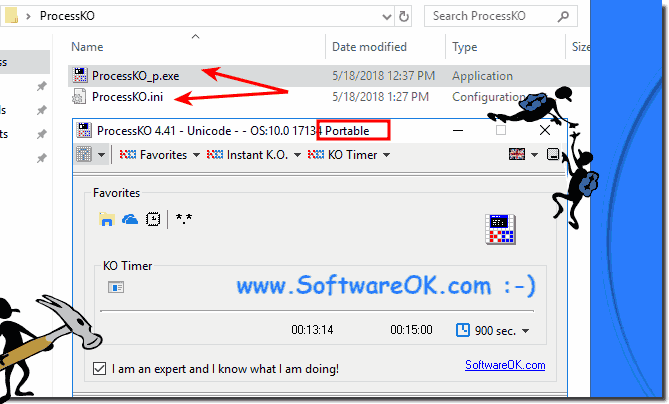 2.) The standard version of ProcessKO!
In the standard version of the Process Killer (ProcessKO) stores the program settings in: 
%appdata%/ProcessKO
There are no personal data stored here, only the program-specific, or their personal program settings for the operations of  ProcessKO  ;-)!  
(Image-1) The process killer under Windows 10, 8.1, 7!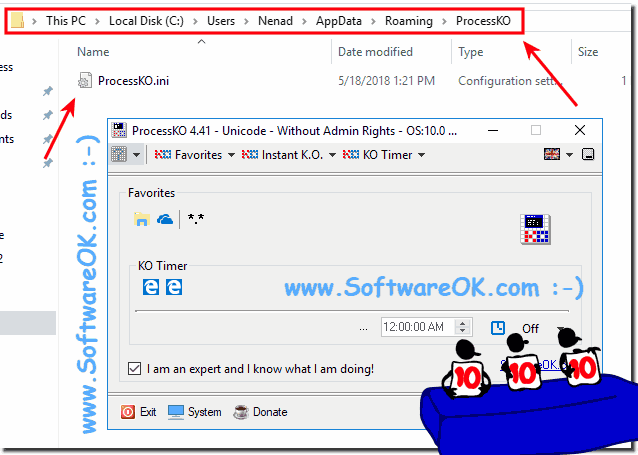 FAQ 6: Updated on: 21 May 2018 18:08