The solution is simple to switch in Q-Dir File-Explorer from new to old Tree-View on all Windows 11, 10, ... Desktop PCs or MS Server OS!
Content:
1.) About Tree-View In Q-Dir!
The new Tree-View in Q-Dir is faster, the old i created for Windows-XP.  
Menu ► Extras ► Tree-View ► Don't use W7/Vista directory structure


Activated: Don't use W7/Vista directory structure = Old Tree-View

Deactivated: Don't use W7/Vista directory structure = New Tree-View


(Image-1) Q-Dir new and old Tree-View for Windows!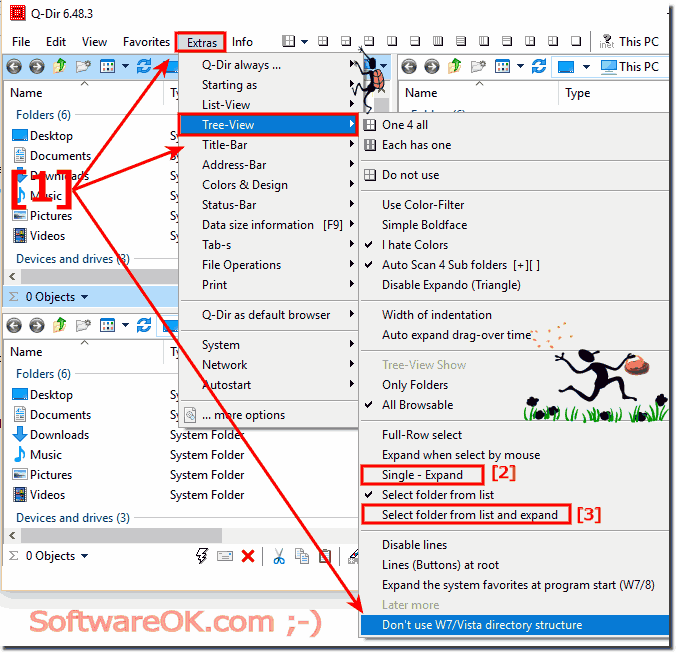 2.) Some info about Tree View!
1) I would be very happy if the trees, once expanded, could stay that way and not collapse every time after a short while.
2) Could the directory in the tree show up in the middle of the box and not, like WE, stay on the very lowest end below.
Will try to integrate in one of the next versions!
3) If the tree expands could it show all the sub-directories and not only the one actually used.
3.) Why so much wind around the file explorer directory structure! 
Windows Explorer is the default file manager for most users. However, as a Windows shell, it is also responsible for the desktop and the taskbar and for much more.
However, the directory tree is not a masterpiece. I am also not satisfied in Q-Dir! Sometimes you want to have an overview of the entire directory tree of a drive and then it can take a while.
I am working on further options to make it even more flexible, as the address bar is extensive, the important folder structure should be able to do more, I will stay tuned!  
FAQ 103: Updated on: 29 May 2022 06:31