Oh yes the old Occasional problems with '*.qdr' files. The icon is now red not blue!
Content / Solution / Tips:
1.) The ICON change in Q-Dir! 
Please do not mix with older (Q-Dir < 3.77) this lead to problems.
In the old Q-Dir is the default icon for "*.qdr"
red
and in the newest
blue
.
OLD!

NEW!

Please register again. (see screenshot)

for Vista and W7: please start Q-Dir for this action as admin


Menu ► Tools ► System ► (*. Q-DIR .....)




(Image-1) Register QDR files on Windows and Server to see the Blue-Icon!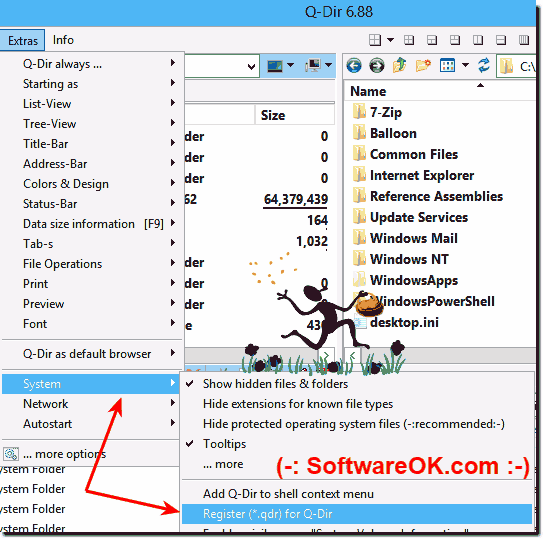 Old Image!





......

2.) Strange behavior in DWG and DXF files!

Unfortunately, on some Windows at once the icons for DWG and DXF files are no longer displayed (white area appears). Other icons are displayed correctly. In Windows Explorer, all icons including DWG and DXF are displayed correctly.



The solution:

Under x64 please use the x64, because external dll's under x64 only work in x64 programs and not in x32 unless you install the corresponding 32-bit versions under x64 MS OS so WOW64

But with the Q-Dir x64 it should work. You can use this example as a solution easily and without hesitation also on other versions of Microsoft Windows operating systems for display problems or with external third party DLLs that do not work in WOW64 no matter if it is a problem on the Windows desktop computer, display problem on the go Tablet PC, Surface Pro / Go, or even an MS Server operating system

It really makes a lot of sense to use Windows x64 Q-Dir x64. It was tested at all and successfully 

verified

.













FAQ 50: Updated on: 25 January 2019 10:17