Change the standard action when pressing Windows key + E to start Q-Dir and not explorer.exe on Windows 7 and Windows 8!



Content:



1.) Standard action when pressing Windows + E, Q-Dir start!
2.) How to delete favorite filters entered by mistake?

Easy delete favorite filters for files and folders entered by mistake, in Q-Dir solution  for Windows 11, 10, ... or MS Server OS!   



To delete favorite filters in Q-Dir  please open the Options Tab Filter via:
Menu « Extras « Options > Tab-Filter (... see Image-1 Arrow-1,2 and 3) and delete the Filter

Please don't forget "Save" Button!
Image-1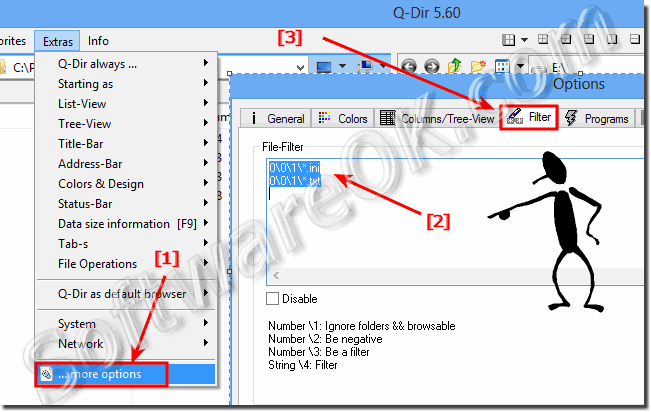 Delete favorite filters in Q-Dir entered by mistake

FAQ 85: Updated on: 5 November 2021 15:39