You can not only start a search query with QuickTextPaste , you can also start other Windows 11, 10, ... etc. programs with program arguments (parameter)!


For example with the command cpy: explorer.exe %cpy% Start the MS Explorer and the text from the Windows Clipboard is inserted in place of %cpy%. (... see Image-1 Arrow-1)

In this case, by pressing the [Windows + C] keyboard shortcut,  for the corresponding command.(... see Image-1 Arrow-2)

Of course, you can use this function under Windows for all other Windows programs and program arguments.

Now the example for an Internet search query: cpy: "https://www.google.com/search?q=%cpy%"
In this case, at the point of %cpy% QuickTextPaste paste the text from the Clipboard and the default program will be started!

In this case the default Internet browser.



PS: The quotation marks (double quotes) are important for multiple words text (blank)!

 




(Image-1) Run program with parameters from the Windows Clipboard!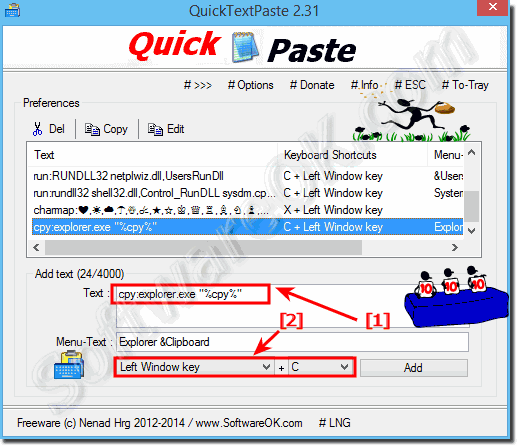 FAQ 5: Updated on: 13 July 2021 09:52