Yes, and it is very popular to run MS Windows 11 and 10 settings, who often likes to adjust settings under MS Windows or Microsoft's server!
1.) A simple example!
Here is a simple example of MS Windows 10 and 11 settings

With the command  ms-settings:windowsupdate quickly open the Auto-Update settings

( ... see Image-1 ) 

All Windows commands that are permitted or in the search field or Run dialog can also be used here. 



(Image-1) Just open the MS Windows 11 and 10 settings!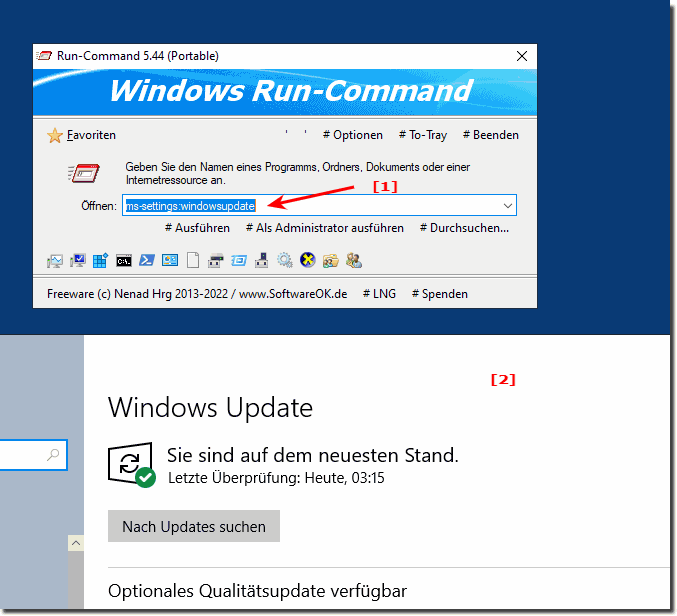 2.) A short list of setting commands!
Simply run it with Windows+R or for a Windows 11 desktop shortcut:
| | |
| --- | --- |
| Command | Setting |
| ms-settings:connecteddevices | Connected devices |
| ms-settings:signinoptions | Login options |
| ms-settings:proximity | Proximity sensor |
| ms-settings:workplace | Workplace access |
| ms-settings:notifications | Notifications and promotions |
| ms-settings:privacy-motion | Movement data |
| ms-settings:display | screen |
| ms-settings:screenrotation | Rotate screen |
| ms-settings:easeofaccess-magnifier | Magnifier |
| ms-settings:bluetooth | Bluetooth |
| ms-settings:datausage | use of data |
| ms-settings:privacy | data protection |
| ms-settings:dateandtime | Date and Time |
| ms-settings:themes | Designs |
| ms-settings:network-dialup | EDI |
| ms-settings:typing | input |
| ms-settings:batterysaver-usagedetails | Energy saving battery consumption |
| ms-settings:batterysaver | power saving mode |
| ms-settings:batterysaver-settings | Energy saving mode settings |
| ms-settings:easeofaccess-closedcaptioning | Ease of use |
| ms-settings:easeofaccess-otheroptions | Ease of use |
| ms-settings:network-ethernet | Ethernet |
| ms-settings:otherusers | Family and other users |
| ms-settings:colors | Colours |
| ms-settings:personalization-colors | Colours |
| ms-settings:privacy-feedback | Feedback |
| ms-settings:network-airplanemode | Flight mode |
| ms-settings:privacy-radios | Radio reception |
| ms-settings:developers | For developers |
| ms-settings:personalization-background | background |
| ms-settings:easeofaccess-highcontrast | High contrast |
| ms-settings:privacy-calendar | calendar |
| ms-settings:privacy-webcam | camera |
| ms-settings:privacy-contacts | contacts |
| ms-settings:privacy-accountinfo | Account information |
| ms-settings:easeofaccess-mouse | mouse |
| ms-settings:mousetouchpad | Mouse and touchpad |
| ms-settings:privacy-microphone | microphone |
| ms-settings:network-mobilehotspot | Mobile hotspot |
| ms-settings:network-cellular | Cellular |
| ms-settings:privacy-messaging | news |
| ms-settings:powersleep | Network operation and energy saving |
| ms-settings:network-directaccess | Network direct access |
| ms-settings:maps | Offline maps |
| ms-settings:optionalfeatures | Optional features |
| ms-settings:personalization | personalization |
| ms-settings:privacy-location | position |
| ms-settings:network-proxy | Proxy |
| ms-settings:regionlanguage | Region and Language |
| ms-settings:storagesense | Storage |
| ms-settings:lockscreen | Lock screen |
| ms-settings:easeofaccess-narrator | Speech output |
| ms-settings:speech | Voice input / output |
| ms-settings:privacy-speechtyping | Speech recognition, freehand and input |
| ms-settings:personalization-start | begin |
| ms-settings://tabletmode/ | Tablet mode |
| ms-settings:easeofaccess-keyboard | Keyboard (screen keyboard) |
| ms-settings:network-vpn | VPN |
| ms-settings:privacy-customdevices | Other devices |
| ms-settings:network-wifi | Wi-fi |
| ms-settings:network-wifisettings | Wi-Fi settings |
| ms-settings:windowsupdate | Windows Update |
FAQ 12: Updated on: 7 June 2022 18:27