Yes, you can rename several files at the same time in MS Windows Explorer. This solution is suitable for Windows 11, 10, ... etc. operating systems!



Contents:



1.) Rename multiple files in Windows 11, 10, 8.1, ...!
1. Simply mark the files to be renamed and right-click on the (first) selected files.

2. In the menu that then appears, select the "Rename menu item".
(optionally you can also use the F2 key)

3. Now you assign the desired name for the file and confirm this with "Enter" 

4. Then all the selected files are renamed with the file name, except that they are also numbered in ascending order. 

(... see Image-1 Point 1 to 3)



Info:

This works in Vista as well as in Windows 7. 

And is also supported in  

Q-Dir the Quad-Explorer Tip: The order of renaming can be determined by the order in which the files are selected, by clicking on the files individually with the mouse and holding down the CTRL key . So, the file with the lowest numbering first, then the second, etc. ... 

You can also deselect files in this way.





(Image-1) Rename multiple files at the same time on Windows 11, 10, 8.1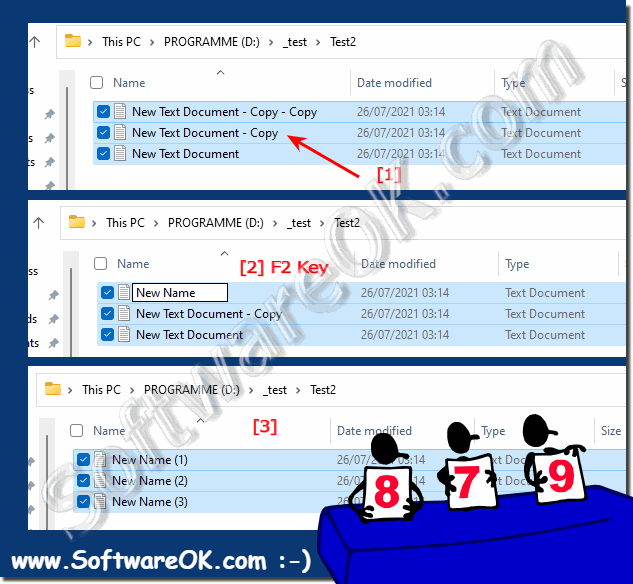 The solution to rename several files at the same time is suitable for: --- OS_Windows6 ---



2.) What should I consider when renaming?
There is nothing to watch out for except that you don't get confused when renaming several times!  

On Windows it is very easy to rename files or folders, all you have to do is click on the filename and rename it. You also have the option to automatically rename multiple files in case you need to sort your material quickly.

In Windows, you can easily rename multiple files at the same time, even without external APPs and software. No need to read a long article, this trick can get you started in seconds! 

Tip:
If you have activated Show file extensions , also enter the name of the file extension that you are renaming.

3.) More tips and links on files handling! 
Renaming multiple files at once in Windows is very popular, there is an easy way to rename multiple files at once in Windows. You can find out how to do this in other ways on the following pages: 


FAQ 58: Updated on: 4 September 2023 10:16