The onscreen Keyboard command for all Windows operating systems is the same run command osk!


Type without using the real keyboard with help of On-Screen Keyboard. Instead of relying on the physical keyboard to type and enter data, you can use the On-Screen Keyboard. The OnScreen Keyboard for Windows displays a visual keyboard layout with all the standard keys and more.



1.) Run onscreen Keyboard on All Windows OS!
Run via Run-Dialog [Windows-Logo + R] Key shortcut and command osk. 

The Screenshot of RUN command for onscreen Keyboard is from Win10, but it works on all other Windows Operating Systems.
  


(Image-1) Run OSK on All-Windows!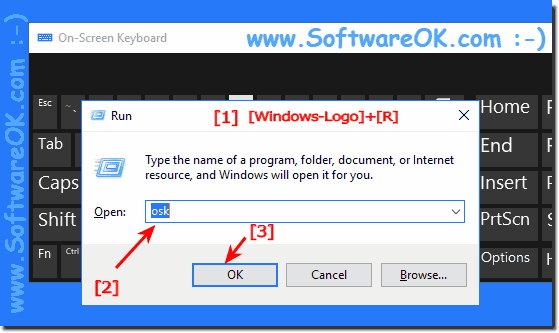 2.) The Full-Path of onscreen Keyboard!

The Full-Path is: C:/windows/System32/osk.exe
In Folder : C:\Windows\System32 or %windir%\System32  

Or start the onscreen keyboard over (Windows XP, Vista, 7):

"START" > "Programs" > "Accessories" > "Accessibility" > "On-Screen Keyboard"


See also: 
... create a desktop shortcut for the Windows 8, 8.1 onscreen keyboard!
... windows 8 on screen keypad at startup, log in without keyboard!



(Image-2) The MS Windows on-screen keyboard!



Microsoft On-Screen Keyboard
Version 2.0
Copyright © 1998-2001 Microsoft Corporation

3.) About On-Screen Keyboard!
On-Screen Keyboard is intended to provide a minimum level of functionality for users with limited mobility. Users with limited mobility will need an on-screen keyboard with higher functionality for daily use.

On-Screen Keyboard was originally produced for Microsoft by Madentec Limited. For more information about Madentec and a list of Windows-based utilities! 



Info:

Madentec Ltd. supplies assistive technology for people with physical disabilities. The Company offers solutions for accessing and controlling a computer or communication device, an alternate keyboard, and scanning access hands free. Madentec operates and markets to customers in Canada.

Madentec Ltd information / or they no longer exist!?







(Image-3) The new Windows 10 and 8.1 ON-Screen keyboard layout!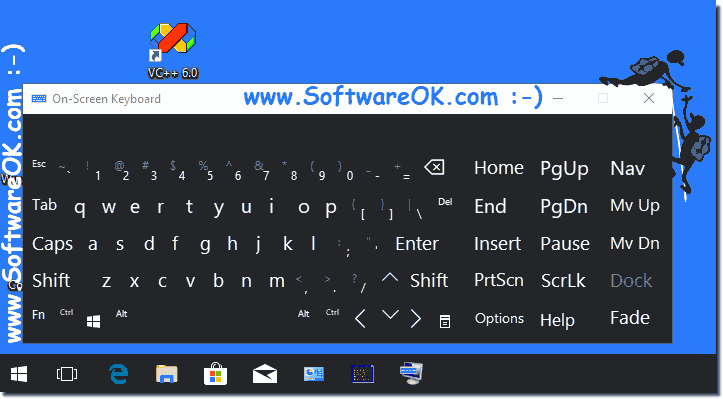 Copyright © 2001-2019 Microsoft Corporation

You can easy select keys using the windows mouse or another pointing device, or you can use a group or a single key of keys to cycle through the keys on the windows screen ergo desktop.



FAQ 8: Updated on: 26 June 2020 08:04