Windows 10 and 11 sometime close a program or APP and then notify you if it determines that the program is either a security risk or incompatible with Windows-10/11.




If you trust some of the programs, you can add it to an exceptions list in the DEP!



You want to change the settings in DEP:
1. please run the command control sysdm.cpl,,3 
(from Windows 10/11 RUN-Dialog) 

2. And customize in Windows the Data Execution Prevention (DEP) settings.

(... see Image-1 Arrow 1 to 8)


See also:
► remove APPs from Windows 10 Start Menu ► Program Name in Windows 10 Task-Bar ► program files in windows 10



(Image-1) Customize DEP settings in Windows-10!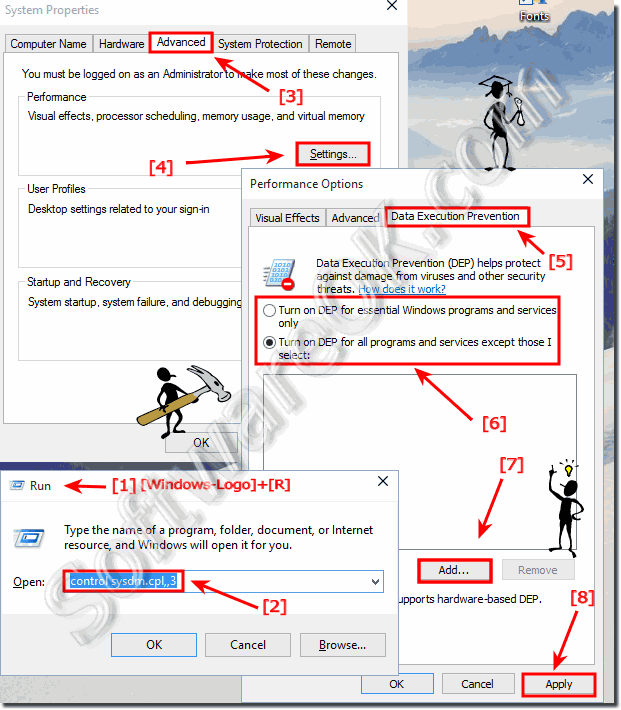 When Windows 10 closes a program because of a security risk, it's because some programs might use your computer's random access memory (RAM) in a way that could be exploited by a virus and harm your computer. Windows-10 Data Execution Prevention (DEP), a security feature of Windows 10, tracks how programs use memory. If DEP finds memory being used incorrectly, it will close the program and let you know. If you trust the program, you can add it to an exceptions list so that DEP won't close it, but you should first check with the manufacturer of the program to see if there's an updated, DEP-compatible version available.

When Windows 10 closes a program because of compatibility issues, it's because some programs could damage Windows 10 if you try to run them. If Windows 10 detects that an incompatible program might harm your computer (for example, by damaging important system files), it will close the program and notify you. Check with the manufacturer of the program to see if an update is available, or check Action Center in Control Panel to see if a fix from Microsoft is available.



FAQ 101: Updated on: 25 August 2023 12:25