It is simple to disable auto driver updates on Windows 10, if for example Windows-10 Update overwrites the installed manufacture driver via update!




The solution! 



Open the classic Control Panel on your Windows-10 PC  for example from

Windows-Logo + X

Menu

Tap or click the top right search box and enter the text

"device"

.

Now look at the window, displays a list of search results for this search. Click the entry 

Change device installation settings

.

And now select

"No (your device might not work as expected)"

, finally, click Save Changes.

(... see Image-1 Arrow 1 to 5)

See also:  ► Device Manager on Windows-10 Desktop, how to? (Drivers)  ► Connect a Bluetooth device to Windows 10



(Image-1) Windows-10 turn-off automatic driver updates!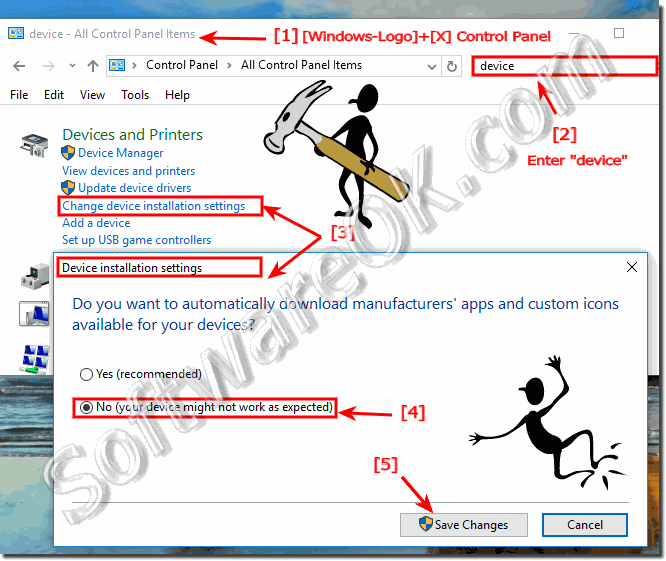 Useful info from (c) Microsoft:

You can have Windows automatically download recommended drivers and detailed information for your devices. This is a good way to make sure all your hardware works properly.

For Windows 10 hardware that you've connected to your computer in the past, updated drivers might become available at a later date; but those drivers aren't installed automatically. To install these optional updates, go to Windows 10 Update in Control Panel, check for updates, and then view and install driver updates that are available for your computer.

See also: Where are the Auto Update settings in Windows 10 ||   auto startup folder in Windows 10 (Where is it)?

FAQ 157: Updated on: January 18th 2018 20:20