The solution to change visual effects to best Performance, on Windows 10/11, this is for Desktop-PCs and Tablet suitable!




 




This solution example is suitable for desktop PCs and tablet PCs and is sometimes recommended even on the MS Surface if a large number of Windows programs are open and you still want to work quickly on the computer!

1.) Adjust visual system effects to improve performance on Windows 10/11! 
Please run the command 

sysdm.cpl

 about the 

Run Dialog in Windows 10

. For example via 

Windows-Logo + R

 Keyboard Shortcut.  


In the Window 10 System Properties, please select the Tab Advanced. 
About: ... Advanced System Properties

In the Group-Box Performance click the Button Settings... (... see Image-1 Arrow 1 to 3)

and now switch the visual effects to best Performance (... see Image-1 Point 4 to 6)




(Image-1) change visual effects on Windows-10!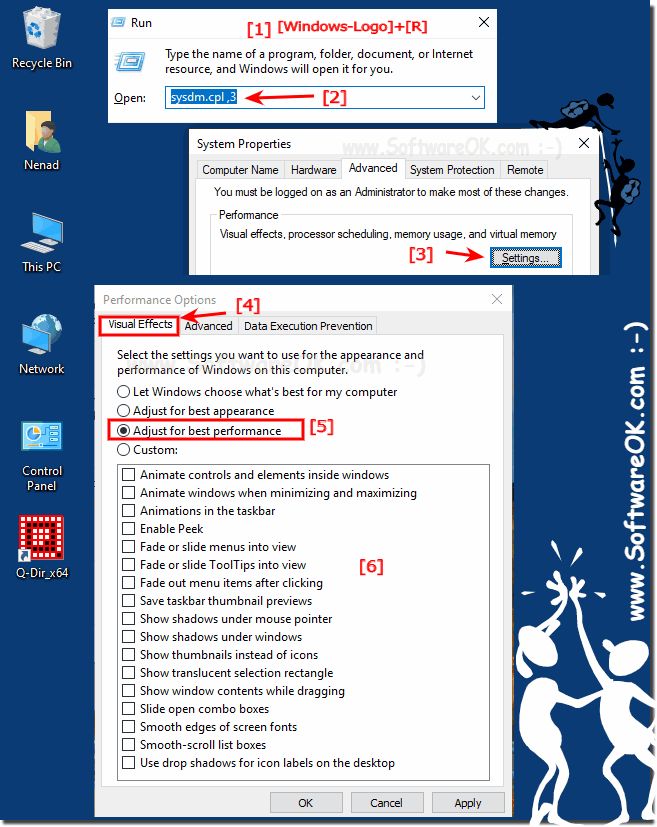 2.) Will Windows 10 or 11 really get faster with these adjustments?
Once you've completed the steps, not only will the navigation on your device become faster, but your computer will have additional system resources for other tasks.

You can undo the changes at any time using the same instructions.

Although Microsoft designed Windows 10 / 11 as a highly optimized operating system, there are still optimization options that you can apply and things that you can do to improve device performance, for example by adding more memory or upgrading to one SSD hard drive , .... 



(Image-2) Best Performance for Windows-10!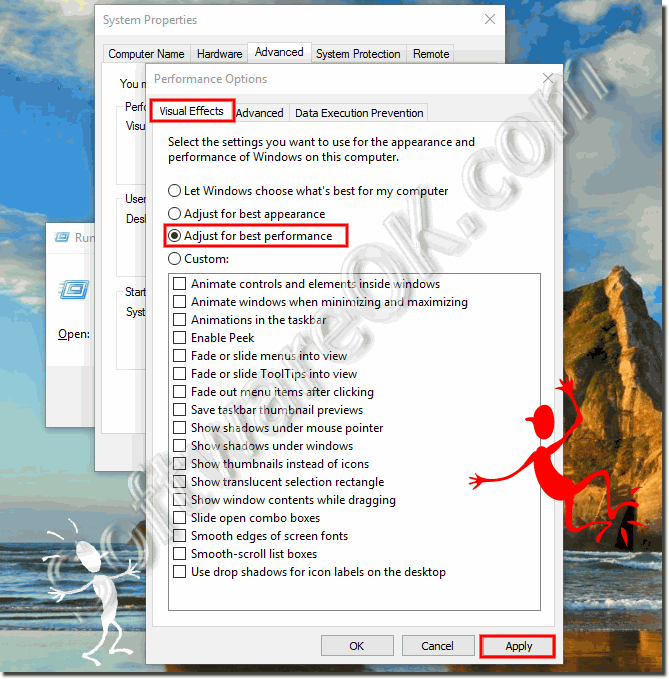 FAQ 160: Updated on: 25 August 2023 12:39