Here is the solution, how to show filename extension in Windows 10/11, this example is also for Windows 8.1 and Server 2019!


Content:





The file extensions under Windows 10 are hidden by default. These let the user know on the computer what type of file a certain file is. Users can view the Windows 10 file extensions by changing a specific setting in Explorer.





1.) Activate / deactivate the file extensions directly in the file explorer!
To 1: In Windows 11: start old Explorer on Windows 11! 

1. Please start in Windows 10 or 11 the MS-Explorer, for example via the keyboard shortcut [Windows-Logo + E] 

2. click (or tap on your Tablet PC), View or use the shortcut [ALT+V]

3. check mark in the checkbox File name extensions and optional the

Hidden items

 
(to see the hidden files and folders in Windows 10) (... see Image-1 Arrow 1 to 3)

PS:
For advanced view settings for Files and Folders in Windows 10/11, click or tap Options (... see Image-1 Arrow-4)




(Image-1) Windows 10/11 show filename extension!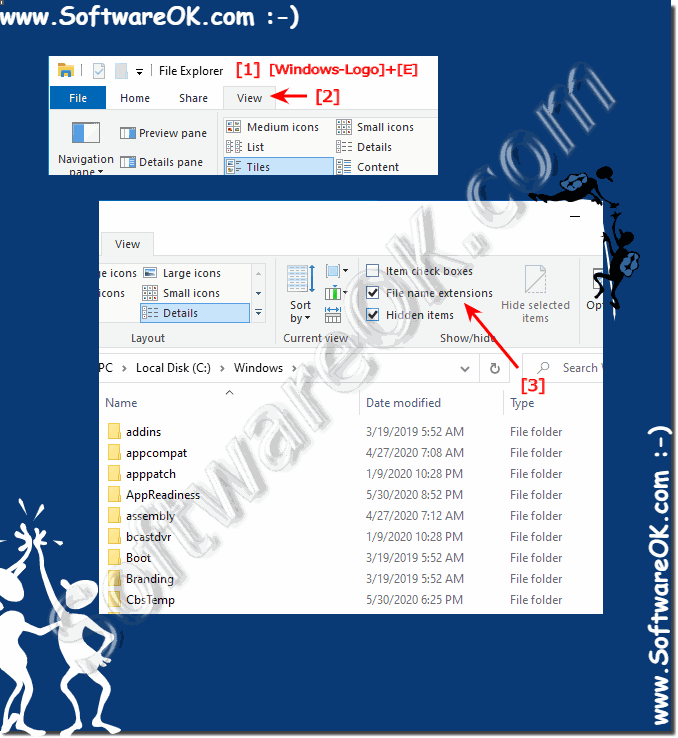 There are a variety of file formats on the computer for different files, including documents, photos, videos, music files, archives and many more. There are a number of file extensions for these different types of files. Just think of how many different file formats there are for text documents. In addition to Microsoft Word, each office software offers its own file formats. Likewise, there are various formats with varying compression for media, i.e. image, video and music files.



2.) Switch off / on in the folder options of the control panel !
(Image-2) Show the filename extension in Windows-10/11 Explorer!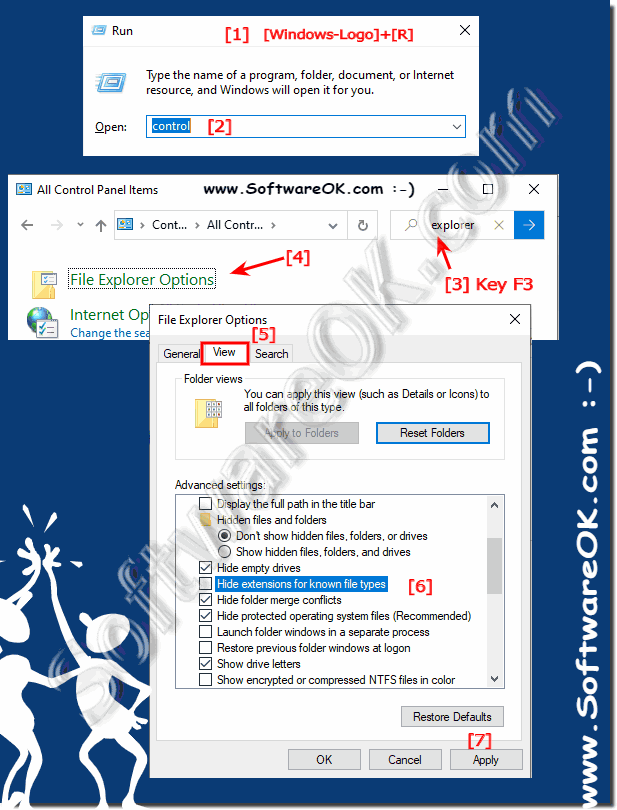 More experienced users, professional end users and many users who use their PC for work, however, need the visible file extensions under Windows 10. For example, photographers must know whether the specified image file is a JPEG or RAW format. It makes your day-to-day work a lot more difficult if you cannot recognize the format of your files without an info-out or clicking in the properties of the file. This basically applies to all professionals in the creative field, but also to developers.

3.) What should I watch out for with Windows 11, 10, ... file extensions !
You should not always work with the activated file extension options, or have them displayed, it is mostly confusing for Windows beginners, because you can see all file extensions and folder extensions, some of which are only meaningful and advanced for advanced users make and are intended for the operating system. The random renaming of system files is also not recommended and leads to the non-functioning of the operating system, as well as to a complete system crash. 

See also:     




(Image-4) File and folder extensions under Windows 10!


FAQ 166: Updated on: 25 August 2023 12:40