The solution is quite easy to find
color filter settings

under Windows 10 / 11!

Easy find color filter settings or change the settings in example to Contrast Black for Windows 10 / 11!



Content:
1.) Find color filter settings in Windows 10 / 11! 
1. In Windows 10, please open the color filter options, press the Windows logo + I key combination

2. Enter the text "color filter" click on Color filter settings! (... see Image-1 Point 1 and 2)

And adjust the color filter options according to your needs! (... see Image-2)



(Image-1) Find and open color filter settings!

Info:

It is not even so bad to test the color filter or adapt as you can sometimes just better on mobile Windows 10 recognize the font. Or better able to cope with poor eyesight. The good thing is that you can adjust the Windows 10 color filter really fast without having to make a PC beginner course, although experienced Windows 10 users do not know this color filter function.


(Image-2) Turn on or off the color filter settings under Windows 10!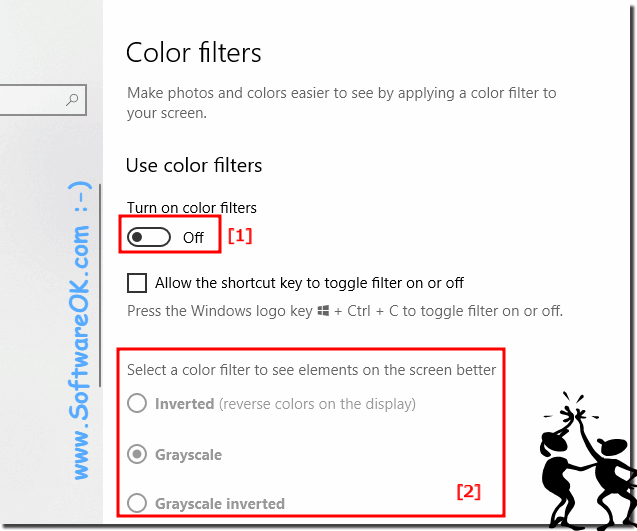 Info:

What can I do if I still have problems recognizing the writing is a frequently asked question. The elegant solution is written not only for Windows 11 and 10 to customize color filter settings, as you can see above in Windows 10 shot screenshot.

You can easily and safely activate this example as a color filter settings solution under different versions of Microsoft's Windows 11 and 10 operating systems, whether it's a Windows desktop computer or on the go in the Mac Cafe while tweeting on the tablet, Surface Pro / Go, color filters need to make adjustments because the light is just unfavorable or even sent to a server operating system in bad exposed server room. This was tested at all and successfully verified.


2.) Color filter settings contrast black for Windows 10 / 11!

1. Simply enter the Windows I key 

2. enter "Contrast"

3. Activate high contrast 

5. Change to "Settings for high contrast ..."

5. and for example "Contrast black"
(... see Image-3 Point 1 to 4)

PS:

Just experiment with the text colors, Windows 10 High Contrast is the better display for some

under Windows 10. It allows users numerous color settings. This design with high contrast is suitable here, thanks to Microsoft you don't have to do without that in Windows 10, if you want to read well, the high-contrast designs are well suited here!

(Image-3) Color filter settings contrast black for Windows 10!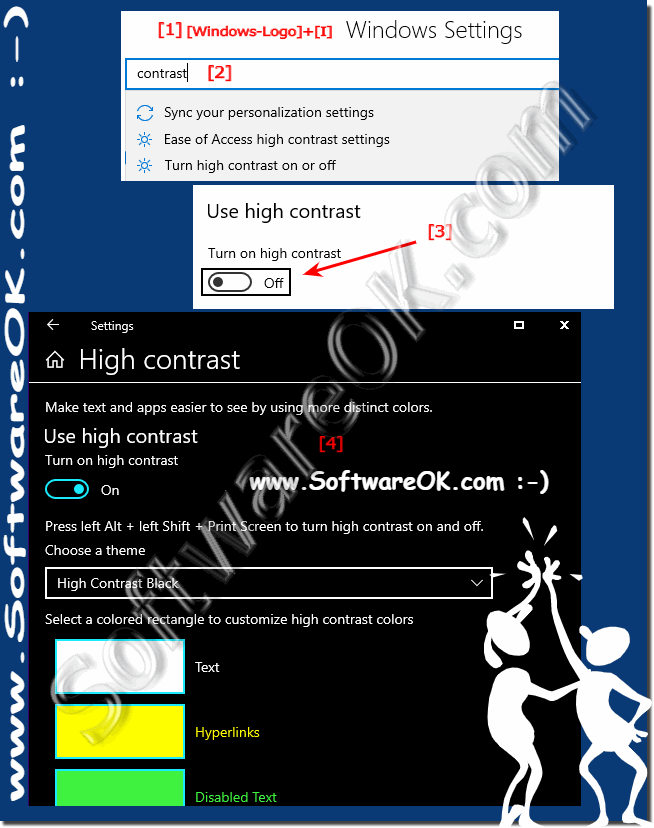 3.) ... More tips on color, contrast, ... and so on under MS Windows OS!


Optimal or individually personalized settings are important for effective and pleasant work under Windows, especially on the desktop operating systems. Here you will find further links / tips that could possibly help you to adapt the MS Windows OS more comfortably and individually!







FAQ 233: Updated on: 16 June 2022 07:21