The solution is very simple, anyone can customize the visual effects in Windows 10 individually!
If you switch from Apple's MAC OS, or Linux to Microsoft's Surface Pro / Go, or a simple Windows 10 desktop Computer, you want quickly adjust the window animations and other visual effects in Windows 10, for example to work faster, or annoying delays in program starts and program menus. Here are simple examples of how to make Windows 10 faster via
advanced system settings
.
1.) Adjust visual effects under Windows 10!

1. Please start the Run dialog in Windows 10. For example, via the Windows logo + R keyboard shortcut and use the sysdm.cpl command!

2. In the System Properties window, mark / activate the "Advanced" tab.

3. Click Groups Field "Performance"  via the Settings button.

4. Now switch the visual effects to "optimal performance"

(... see Image-1 Point 1 to 5 )



(Image-1) Adjust the window animations under Windows 10!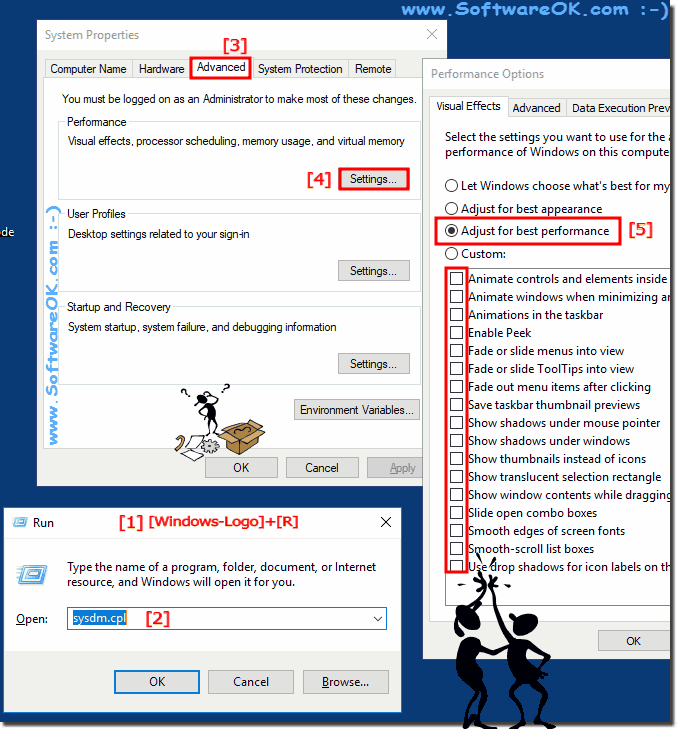 It really is very useful and beneficial to use this solution to adjust the window animations, on the new MS Windows OS, or on any of the following operating systems: Windows 10 (Redstone 4 & 5), 8.1, 8, 7: Pro, Home, Enterprise, Basic, Premium, Professional, Starter, Ultimate, Windows-Server 2016, 2012, 2008 However, you can use this example to customize the Windows 10 window Animation, without hesitation or disadvantages.


2.) What should I keep in mind when changing the visual effects + tips!

If you have made the settings described above, not only the navigation on your Windows 10 PC become faster, your PC has also additional system resources for other important tasks.

You can always undo changes of visual effects on Windows 10 using the same instructions.




Info:

Although MS has designed the new Windows 10 as a maximally optimized operating system, there are still optimization possibilities, but you can do some customization and this option, to increase Windows 10 PC performance, for example

install more memory

and updating the Computer with a

SSD disk

.


 


  



FAQ 237: Updated on: 26 November 2018 22:25