The solution is simple to change the mouse cursor speed in windows 10 to make it faster or slower!


To change the mouse pointer speed in Windows 10 use the Mouse Properties option window! (... See Image 1)

The fastest way to open it, is via the Windows 10 Control Panel and a click on the Mouse icon!

Or using the keyboard shortcut Windows + R and the command control.exe /name Microsoft.Mouse

In the Windows-10 Mouse Properties window, click the

mouse Pointer options

tab and in the group field Motion,
change the

mouse pointer speed

in Windows 10. (... see Image-1 Arrow 1 to 3)

Hot Tip: ... auto hide the mouse cursor!

See also: change keyboard speed in Windows 10  ||  the windows 10 desktop symbol distances 



(Image-1) Windows 10 mouse pointer-cursor speed!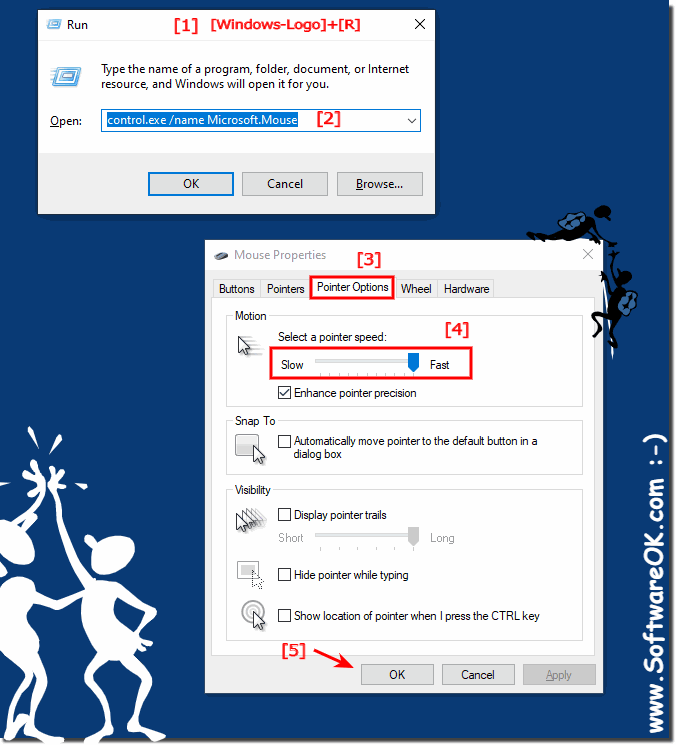 This solution to 
change the mouse cursor
 speed is for windows 10, windows 8.1, 8 and Windows 7.
FAQ 29: Updated on: April 6th 2017 15:53