The
system fonts are also available in the new Windows 11

and are very numerous in the Windows 11 fonts folder!






Many users wonder where the Windows 11 fonts are, here is a simple example of how you can find them and make them more accessible, this solution is not only for Windows 11, but also serve as an example for working with fonts under Microsoft Server 2022 and 2019!


1.) Find the system fonts under Windows 11!
1. Open the system fonts directly with the keyboard shortcut Windows + R 

2. Confirm the command: shell:fonts  or  C:\Windows\Fonts  with the Enter key

3. You can now delete system fonts 

4. Or, if necessary, by drag & drop create a shortcut on the desktop 

(... see Image-1 Point 1  to 5)

PS: 
To install a font file, right-click the font file in the file explorer and select either "Install" to install it only for Install your user account or "Install for all users" to install them system-wide.




(Image-1) The system fonts in Windows 11!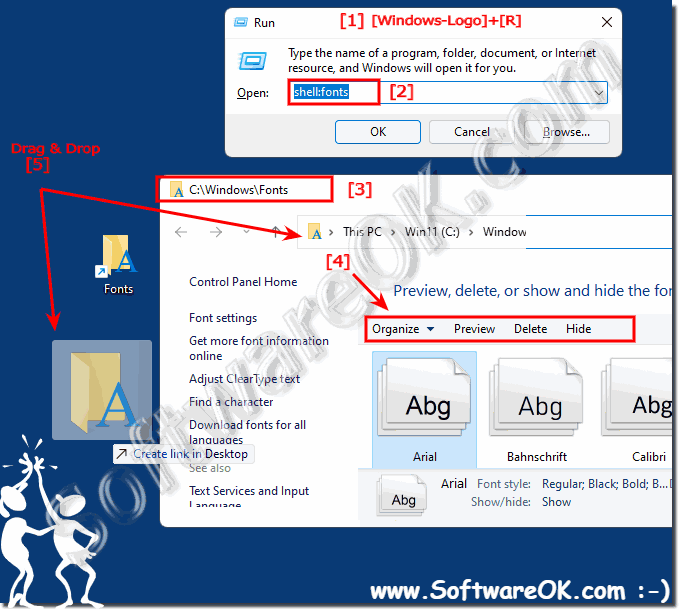 2.) What should you watch out for with the Windows system fonts?

Some system fonts that are required by the system do not appear in the list at all or they are restored immediately after being deleted from the system or when the system is restarted. 

The Windows 11 font folder contains 347 files and is 344 MB in size

( ... see Image-2 Point 1 and 2 ) 



Info:

Please also note that changing the fonts on your system may affect the way text is displayed in applications, programs and the operating system. So it is advisable to be careful to ensure that the font you choose is easy to read and does not cause problems.

►► 

Restore default font on windows 11?





(Image-2) Windows 11 system fonts folder size!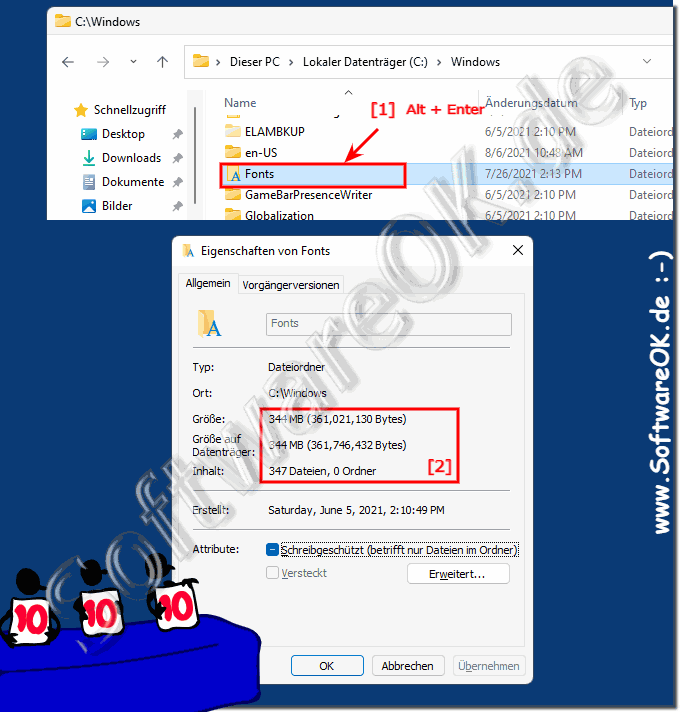 3.) ... Windows 11 fonts in the Windows settings!


1. Open the Windows 11 settings ( Windows + i )    

2. Enter the search term "font" a

3. Open the font settings

4. Install new fonts for Windows 11 

5. Remove or existing fonts 

(... see Image-1 Point 1 to 5)

PS:
Windows 11 comes with many automatically pre-installed fonts, but if you are interested in fonts, you might want to install more. Alternatively, you may have more fonts to install, or some that you need to remove. But installing or removing the fonts on Windows 11 is too easy!



(Image-3) Find the fonts in the Windows 11 system settings!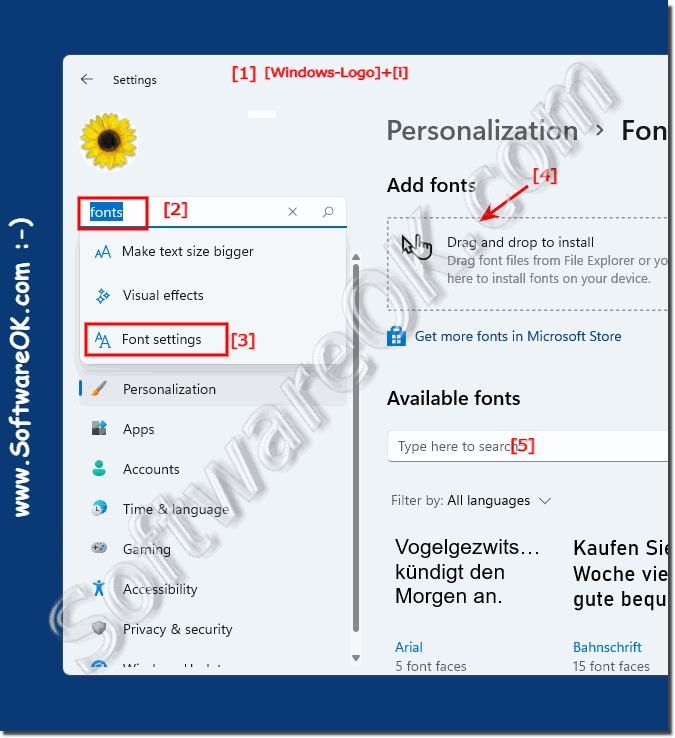 Changing system fonts can affect the appearance of Windows 11. So make sure you choose a font that is easy to read and fits well with your preferences. If you are not happy with the font changes you have made, you can always revert to the default font by going through the same process and selecting the original font.

►►  Restore default font in Windows 11?



FAQ 123: Updated on: 16 September 2023 15:58