Yes, everyone can continue to use their Internet Explorer favorites on Windows 11, but the folder must first be copied to a USB stick!



 



Content:



1.) Continue using Internet Explorer favorites on Windows 11!
1. Start the MS File Explorer on your old Windows OS

2. Open the shell:favorites folder 

3. Copy the folder to a stick 

4. In Windows 11 open the shell:favorites folder

5. And copy all of your Favorites 

(... see Image-1 Point 1 to 3)



(Image-1) Use the Internet Explorer Favorites on Windows 11!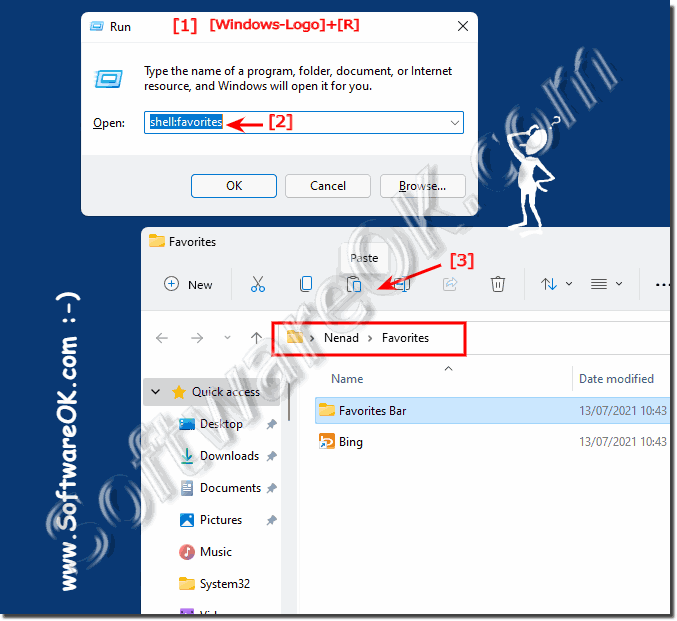 2.) Why is Internet Explorer not further developed for Windows 11!
It's really a pity but also understandable that the Windows Internet Explorer, which was always available on Windows, is no longer being developed for the new Windows 11.
But because Google's Chrome, which is actually based on Firefox, has gained great popularity on the Internet and through the phenomenal search engine experience, Microsoft has been trying to gain a foothold here for some time, the Bing search engine is expanding, and the Edge Chromium browser is the new Internet browser from Microsoft.
From a Microsoft point of view, it was also the right decision from a technical point of view, because the Chromium is a stable developed piece of software that has proven itself so far in combination with Bing Microsoft will certainly reach more market parts in the browser area and in the search engine technology in the future.


FAQ 65: Updated on: 26 August 2023 06:44