It is quite easy to display or recalculate the Windows 11 ExperienceIndex for Windows 11 with a 100 KB tool, is OK!




 

Content:




1.) Comfortable display of the performance index under Windows 11!

1. Please start as always ► .. the latest version of Experience-Index-OK for Windows 11

2. Click, start recalculating the performance index (Point 2)

3. After 1-2 minutes, they click on "Reload" and the

Windows 11 performance index is displayed to them 

(... see Image-1 Point 1 to 3)    



(Image-1) Windows 11 have a performance index!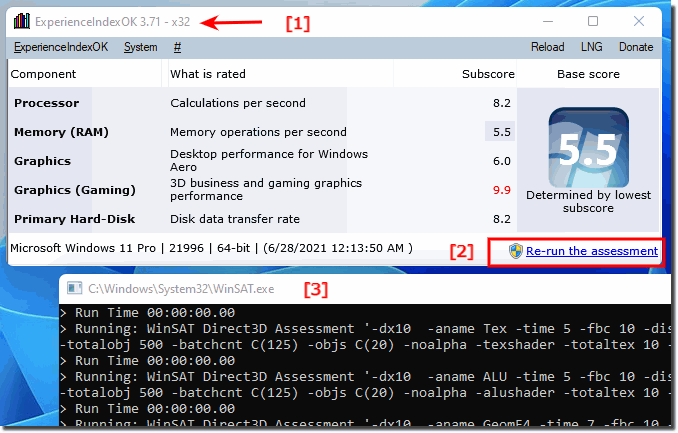 Info:

The Windows 11 Experience Index has always been a quick way for Windows users to determine the overall performance of their PC and the immediate bottlenecks. Microsoft has removed the graphics version of the Windows Experience Index in Windows. However, the underlying tool, the Windows System Assessment Tool, lives on. Better yet, you can easily access the old performance ratings. So you can check your Windows Experience Index on Windows 11.



(Image-2) Windows 11 and the Experience-Index-OK!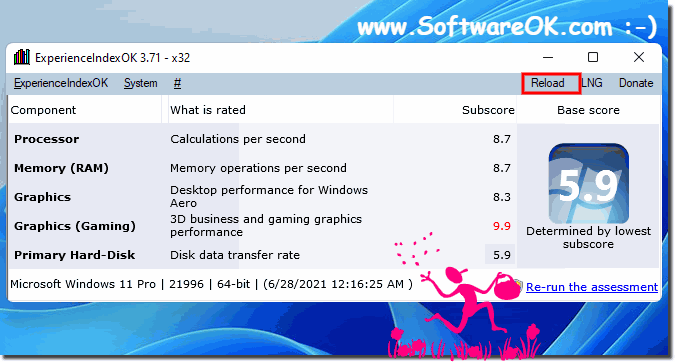 info:
Even on Windows 11, the performance index is a number that can give an approximate idea of the performance of your PC, tablet, Surface, ... , or laptop. Your system is estimated from 1 to 9.9 points on Windows 11. The final result is displayed according to the weakest component.

2.) Complicated queries from the performance index under Windows 11!


1. As described here: ►  Command prompt as administrator under Windows 11

2. Now simply use the command: winsat formal 

3. Start Windows Explorer, e.g. with the shortcut Windows+E and in the address line the address:

Enter %systemroot%\performance\winsat\datastore !

 

4. Then open the file ending with Formal. Assessment (Initial).WinSAT.xml, preferably with one of the internet browsers!

(

... see image 3, point 1 to 5

) 

(Image-3) Windows 11 performance index!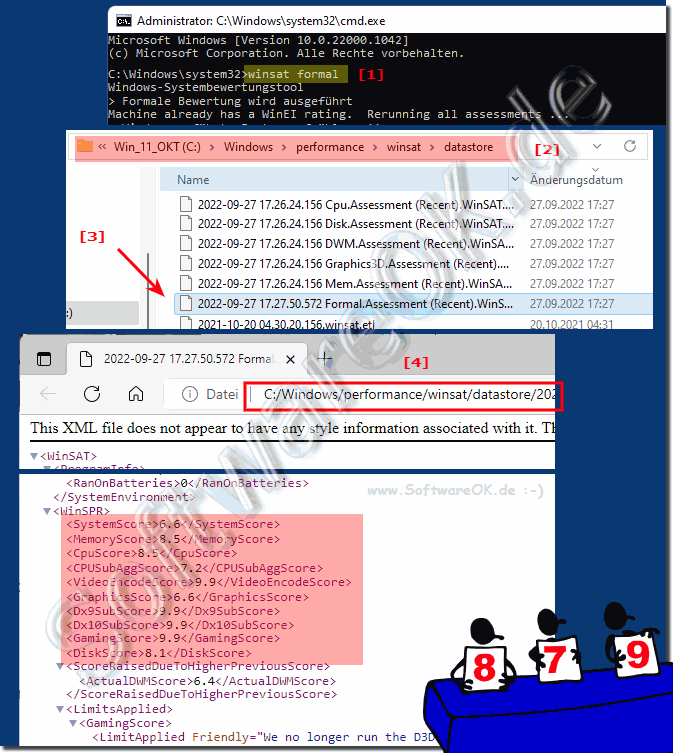 3.) Is the performance index still relevant?

Microsoft has devalued and hidden it, but the performance text is still a good indicator for knowing how the PC is classified, Office PCs usually achieve values ​​up to 7, and multimedia and gamer PCs then over 7 to 9.9.

But you can also use it, for example, to quickly measure the hard drive speed after installing a new SSD or M2 SSD!




4.) More tips on performance and co. on Windows 11?
FAQ 9: Updated on: 26 August 2023 06:21