The solution is simple to disable (turn off) or enable
the auto play feature for DVD, CD, USB in Windows

7, this solutions is also for the Win 8.1! 




The Windows-7 Autoplay begins reading from a drive as soon as you dock an USB-STICK (HD) or insert a CD, DVD in the drive. As a result, the setup file of programs for Windows-7 and the music on audio media start immediately to play.

But you can customize Auto-Play setting in Windows-7, disable or enable Autoplay feature for CD-ROM and removable media drives! Or disable Autoplay for all Windows-7 drives.





Easy disable the autoplay for DVD, CD, USB on Windows and Microsofts Server OS!




You can find the Autoplay in Windows-7 control pane, or please start the run dialog in Windows 7 and enter the following command: control /name Microsoft.AutoPlay! (... see Image-1 Arrow-1) After that, the settings for the Auto-playback in Windows 7 will be open. 

Now, you can easily disable the "AutoPlay for all media and devices" or enable! (... see Image-1 Arrow-2)

A individual adjustment of the AutoPlay in Windows 7 is also possible! (... see Image-1 Arrow-3)!

To disable the Autoplay for all Windows-7 user in one step, I described here:
... disable AutoPlay for all users In Windows 8.1/8!
Is in the Windows-8 FAQ, but it is also valid for Windows 7!



(Image-1) The auto-play settings in Windows!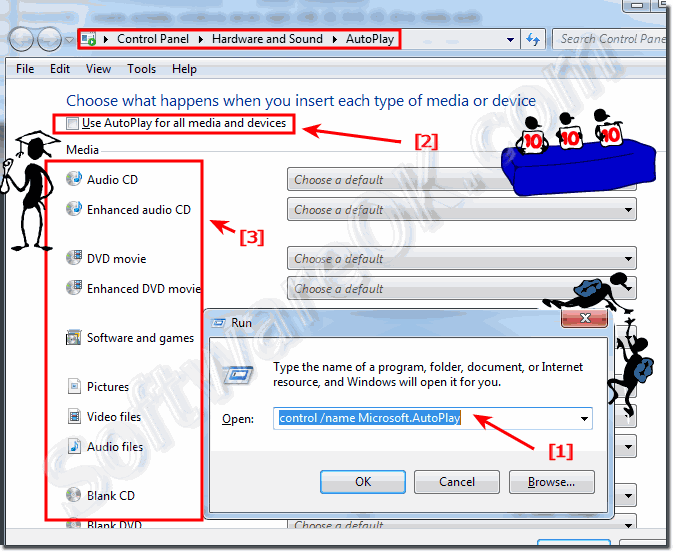 FAQ 100: Updated on: 2 June 2021 16:18