The Device Manager is a key component in Win-8, 8.1 10. Here you will find information about installation and configuration of computer hardware.


The Windows Device Manager provides also a graphical view for you, of the hardware that is installed on your computer.



1. Open the Device Manager via the Windows X menu in Windows 8 and 8.1/10!
1. Please press the key combination [Windows + X],

2. then simply click on the text Device Manager (... see Image-1 Arrow-1)

and you will see the Device Manager on  Windows 8.1 and 10!

And then the Windows Device Manager appears on all MS Windows operating systems, Windows 10 the Windows X menu has a different color but the device manager entry can also be found here and can be used to start the device manager!  



Image-1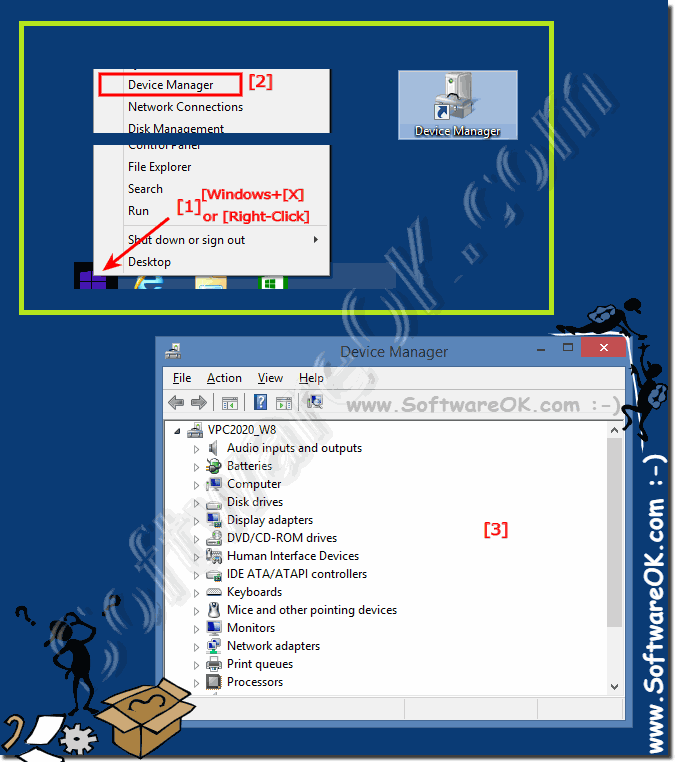 Start the Device Manager on Windows 8 and Win 8.1 (open, find)!

2. Start the Device Manager via Run command in Windows 8.1 and 8/10!
If you prefer to launch the programs from the Run dialog, press the [Windows+R] key combination and use devmgmt.msc to start in Win-8 via command to open Device Manager. (... see Image-2 Arrow-2)


PS: 
This procedure is also to be opened from the Device Manager via the Run dialog for all Microsoft Windows operating systems, it may be that you are asked for an administrator password or a confirmation become! 



Image-2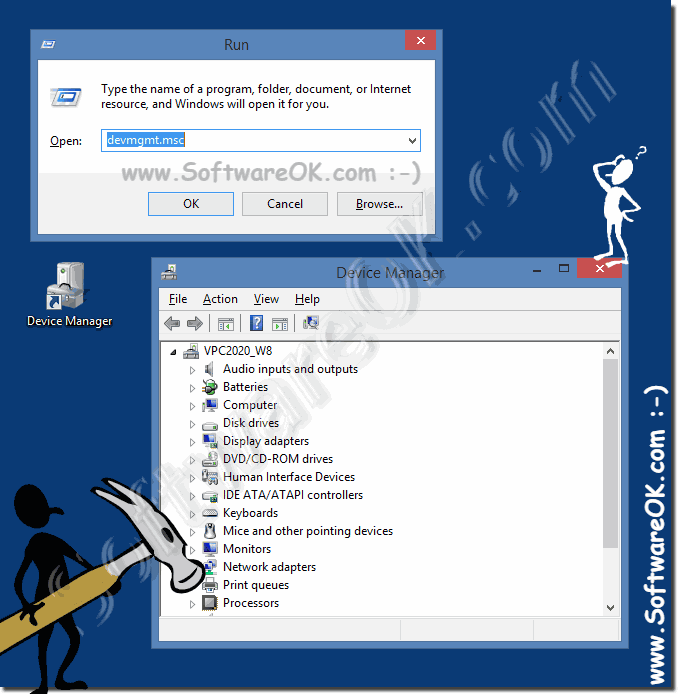 Run Command to open the Device Manager on Windows 8.1 and Win 8





All devices communicate with Windows through a piece of software called a device driver. You can use Device Manager to install and update the drivers for your hardware devices, modify hardware settings for those devices and troubleshoot problems.

Many instructions for fixing problems with the operation of devices in Windows 10 include the "Go to Device Manager" point and, despite the fact that this is an elementary operation, some beginners do not know how to do this.


1. Device Manager via Windows 10 / 8.1 search!
Easy find and open Device Manager with Search

In Windows 10 / 8.1, there is a well-functioning search, and if you don't know how to start or open something, the first thing you should try is: almost always the necessary element or utility is found.

To open the Device Manager, simply click on the search icon (magnifying glass) in the taskbar and enter "Device Manager" in the input field. After you find the object you want, click it with your mouse.

Tip: use Windows + Q keyboard shortcut! 



(Image-3) Device Manager via Windows 10 search!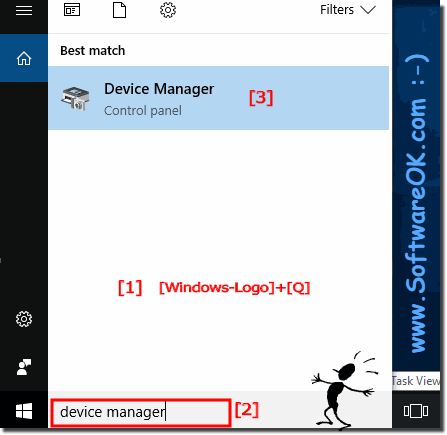 4.) Create Desktop Shortcut for Device manager!



1. Please press the Windows key combination  [Win-Logo] + [D] to see the Windows Desktop.

2. Right-click on the Windows 8 desktop and select "New" >> "Shortcut" .

3. Then simply enter: devmgmt.msc in the input field that is called up, for example Device Manager as the name.

(... see Image-4 Point 1 to 7)

See also: ... program shortcuts for Windows 8 or 8.1 on the desktop



(Image-4) Device Manager on Windows Desktop as a Shortcut!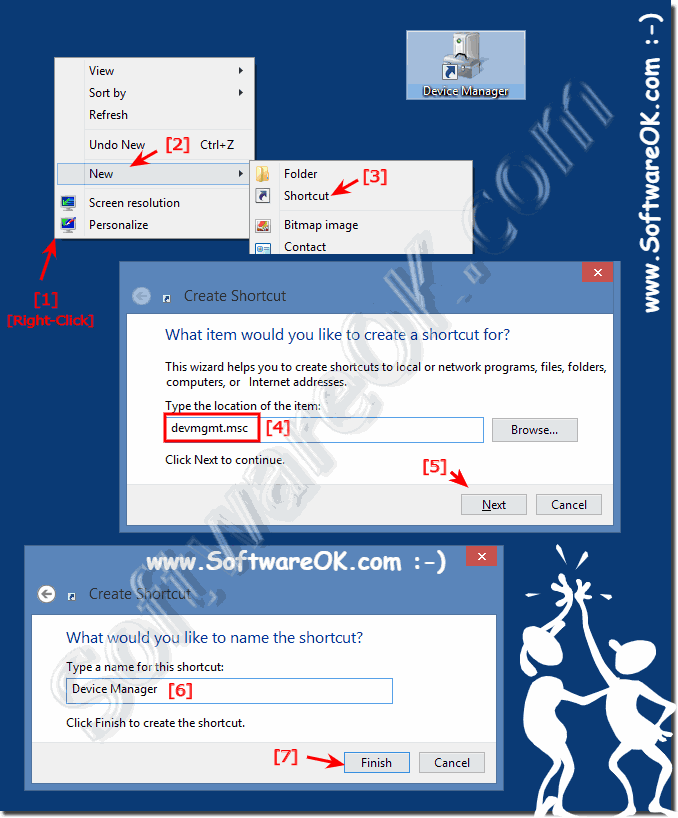 PS:



You can use the device manager in Windows whether you use the Start menu, or you can use the device manager to view and / or manage the hardware components of your MS Windows system. To open it in Windows, these step by step device manager tips are very valuable! 




FAQ 119: Updated on: 16 July 2020 08:29