If you want Shutdown the Windows 8, 8.1, 10 or 7 at a specific time, you can use the solutions with and without external programs. The solution is also for Windows 10!


The solutions:


It can be a problem if the power settings in Windows 7, 8, 8.1 tuned into energy-saving, for this reason, the solution with the freeware Don't Sleep! 


1.) Time-Out controlled shutdown without additional software!
For auto shutdown in Windows 8.1 / 8 use the cmd.exe and use the command "SCHTASKS" in combination with the "shutdown.exe"!  This is a good solution and it works on Windows 8 , 8.1 and server 2012.

Here is the example for the shutdown of the PC's at 23:31 clock. You can simply copy the command, and change the time.
 
C:\Windows>schtasks /create /TN Shutdown23_31 /SC ONCE /ST 23:31 /TR "shutdown.exe /s /f /t


To delete this task: SCHTASKS /Delete /TN Shutdown23_31 /F

2.) Comfortable auto-shutdown in Windows 8 or 8.1 and Win 7 with the freeware Don't Sleep!
If in Windows 8 (8.1, 7) the energy options is very set on ENERGY EFFICIENCY, it may happen that the windows shuts down faster than it is necessary, even if the programs are working and have not completed their tasks. This problem can be solved with the freeware Don't Sleep, without disable or change the energy saving features.
If you don't have the freeware Don't Sleep, please download it: ... download DontSleep

Please start the program and choose the options (best blocking all) to prevent the Windows PC to goes in the standby mode, or to fast computer shuts down. (... see Image-1 Arrow-1)!

Then simply choose the auto shutdown time for the Windows PC (... see Image-1 Arrow-3) and select in Dont-Sleep the timer option "Exit and shut down" (... see Image-1 Arrow-2).

This ensures that the PC will not shut down next hours or goes into standby mode (In the example here 2h).

This works with Windows 7,8,8.1, Server 2008, 2012 ... and Windows XP, 2000!



Image-1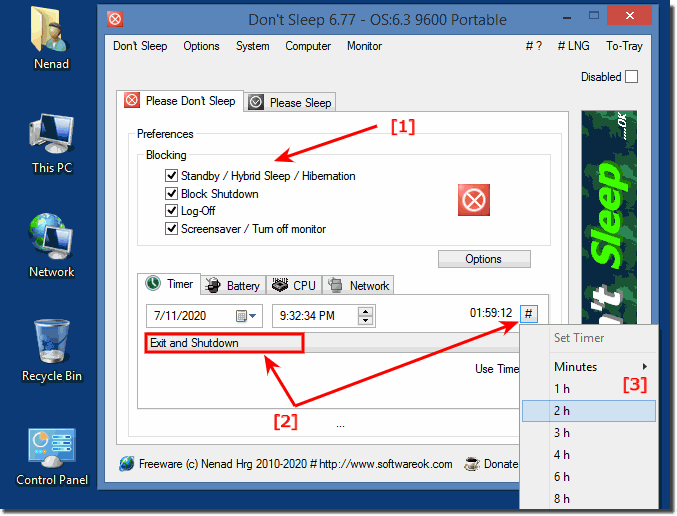 Auto Shutdown the Windows-8 and Win-8.1 automatic Turn-off Win-7!

FAQ 123: Updated on: 25 May 2020 02:47