The solution is easy to make the Windows command prompt (cmd) window wider, to see more of the output text!





 

Content:


1.) The new example under Windows 11 / 10, or MS Server 2019, 2016!
It can be annoying if you are working with the default command prompt window and not capable of everything easy to read. But that's not a problem to make the cmd window wider.

In this example start  the command in the command tree. With the default settings, we can't see all output information!

Properties, click with the right mouse button on the title bar and in the window of the "cmd.exe" the tab layout. Here, you can easily customize the window width (... see Image-2 Arrow-1, 2 and 3)! 

This works on XP, Vista and Windows 7, 8, 8.1, 10, 11!




(Image-1) Windows command prompt CMD TEXT unreadable!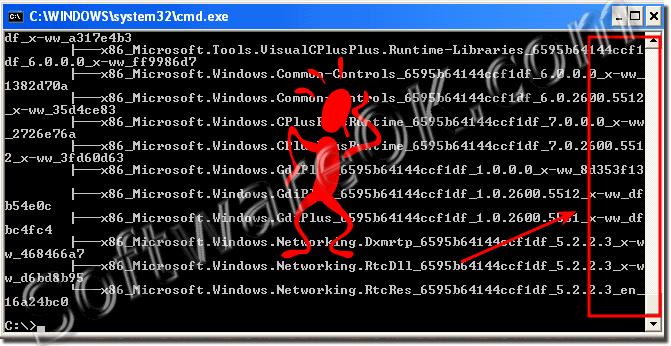 (Image-2) The Windows of command prompt make wider!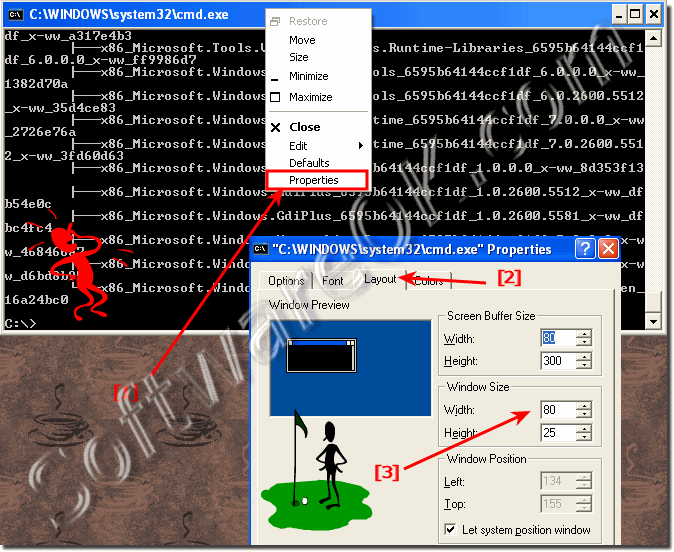 2.) Advantages and disadvantages of adjusting the Windows Command Prompt window width!
Adjusting the window width in the Windows Command Prompt (also called the Command Prompt) can have both advantages and disadvantages:

Advantages:

Better readability: By adjusting the window width, you can ensure that the output text and results of commands are more readable because they are not too long and are not divided into lines.

Efficient use of screen space: The optimal window width enables efficient use of the available screen space. This is particularly useful when you want to run multiple command lines side by side or compare information from different commands.

Avoid line breaks: With a wide enough prompt, you can prevent the command output from wrapping into multiple lines, making the information easier to understand and process.

Disadvantages:

Limited display capabilities: If you set the window width too large, some information may be cut off from command outputs, especially if you are working on a screen with limited width.

Not suitable for all commands: Some commands and programs may not be well prepared for display in a wide window and may require horizontal scrolling to display all information.

Difficulty scaling: If you move the Command Prompt to different screens or resolutions, the window width may need to be readjusted as it cannot adjust automatically.

Loss of consistency: Frequently adjusting the window width can impact the consistency of using the Command Prompt and requires you to get used to the new adjustments each time.




Overall, the pros and cons of adjusting the window width in the Windows Command Prompt depend on your individual needs and working methods. The optimal width often depends on your personal preferences and the requirements of your tasks. It can be helpful to adjust the width as needed, but adjusting it too frequently can also cause inconvenience.







FAQ 10: Updated on: 6 November 2023 20:00