The solution with the cmd.exe is very easy to change the drive designation of a drive via command line on all MS Windows OS!




Under Windows, you can easily change the drive name via the

disk management

. There are several ways to change it on Windows. If you want to change this with the help of the command line, there is the command

"label"

which can be used in the Windows command prompt. This is often used by administrators for

remote access to remote servers

. Solution foe Windows 11, 10, ... and MS Server OS!



Content:

1.) Changing the volume label via Windows

C:\Windows>label c: Win10pro


If no message appears, the identifier has been changed correctly and you can check it in the MS File Explorer!
(Image-1) Windows drive identifier changed!


If the error message appears:  
Access denied because you do not have sufficient permissions or the hard disk may be locked by another process. You need to run this utility in advanced mode and make sure the hard drive is unlocked, then 
you probably do not have the necessary rights or you did not start the command prompt in administrative mode.   
See: ► 
Difference between extended command prompt and normal under Windows?
2.) Change the drive name using Windows Explorer!

Please start the MS Explorer, mark the drive / partition with a right click and open the context menu and mark rename.

Tip: Marking and F2 key also works :-)

Detailed description and more information:
►► Can I change the drive name / volume  label  in Windows 10, but how?




(Image-2) Change the drive label of a drive!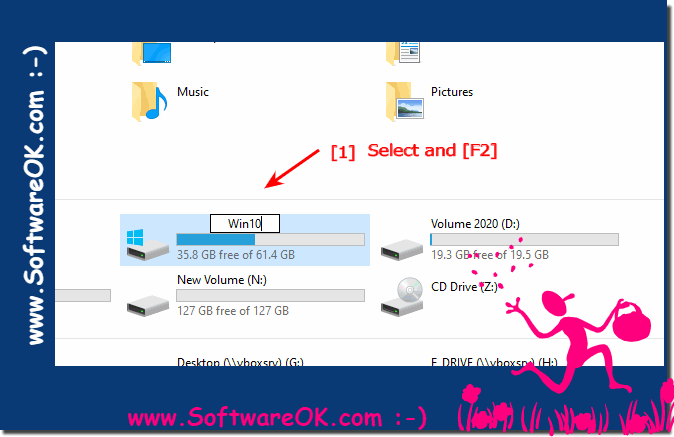 3.) What should you watch out for when changing the drive name!


There are some restrictions when labeling a drive (volume). When you label a FAT volume, you can use 11 characters, while you can use up to 32 characters with NTFS format. Your labels cannot contain tabs, but you can use spaces. You can use any character when you label an NTFS drive. With the FAT hard disk format, however, not all characters can be used, such as:

";: + = [] <>"

 

See also: 
►  Difference between drives and hard disk?  ►  Convert FAT32 to NTFS with Windows !



About the label command:

This "LABEL" tool was originally developed for labeling floppy disk drives, but with the development of technology, the label tool has also developed to the point that it can also be used for labeling HDDs, external hard drives, SSDs, USB devices and mapped network drives can be used.





FAQ 47: Updated on: 26 August 2023 10:27